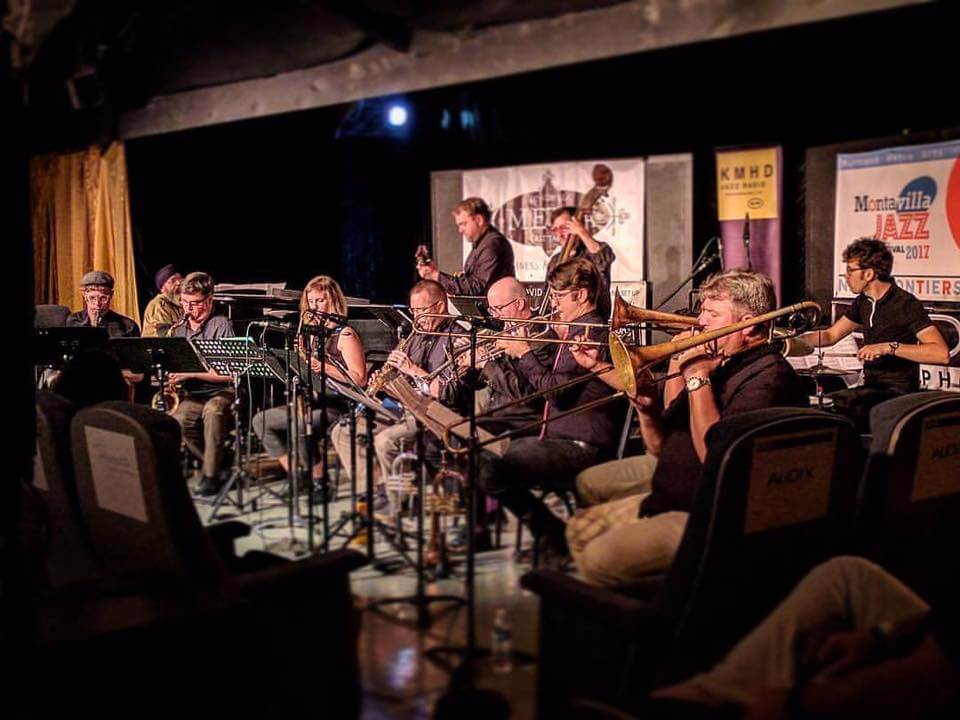 Montavilla Jazz Festival Day 1, Act 3 – PJCE (PORTLAND JAZZ COMPOSERS ENSEMBLE) WITH JASNAM DAYA SINGH:  Jasnam Daya Singh is one of the most sensitive jazz pianists on the scene today… I have reviewed him several times before, starting with issue # 123 of my Improvijazzation Nation magazine… he was going by the name Weber Iago on those recordings, done with Bay Area jazz guitarist Hristo Vitchev, and got very high marks from me for his great piano compositions.
The pieces he performed on 19 August 2017 were composed based on a commission from PJCE, and they are nothing short of marvelous… in order that you get a feel for his broad skill range, I am including three separate sections of the performance…
PJCE with Jasnam Daya Singh featuring Ryan Meagher
You can see and feel the high-energy involvement of each of the players, and it was a joy to watch the efforts of many come together in true jazz unity (by the way, this is the first time I have ever watched Jasnam live, so you can imagine what a thrill it was for me).
PJCE with Jasnam Daya Singh, second feature clip with Ryan Meagher
It was sheer joy to watch how closely intertwined the piano and guitar work were on this section of the piece!
PJCE with Jasnam Daya Singh
This video section is included because it shows the total mastery with which Jasnam plays jazz piano… pure joy to watch, and the entire performance clearly achieved his goal (discussed with him in the musician's Green Room; thanks, Ryan) – "to bring to the forefront the beauty that exists in being connected to all".  I've seldom been as impressed as I was during this great collective performance… totally dazzling!