Charlie Saibel Tipsy piano bar I only go out on the town when there are great musician's playing, and of course my friend Charlie Saibel is one of the best in the West… in fact, he's just released a brand-new CD, which you can check out and purchase at Charlie's website.  He told me a week or so ago that he was going to be playing keyboards at a brand-new venue downtown, a New Orleans-themed space called the Tipsy Piano bar, so I knew I would have to be there!
Before going, of course, I checked their menu… pretty cool selection, no doubt, with a decidedly southern set of selections (they even had hush puppies, if you hadn't noticed)…

When I walked in to the dimly-lit main room, Charlie was already playing the fantastic piano that the owners have setup… within moments of sitting down (right next to Charlie's piano, by the way), I was getting superb and friendly service from Chris (thanks, Chris) & easing on into a vibe very much like those great little bars I used to visit (way back in the day) in N'Awleans…
I selected their meatloaf dinner, and was able to enjoy the great-tasting entree within only a couple feet of Charlie stroking those keyboards…
…the meatloaf was very tasty, and with sides of some delicious mashed potatoes & gravy and red beans/rice, I was totally sated… next time, though, I think I'll ask that the gravy they're using for the potatoes be spread all over the meatloaf… excellent meal; excellent service…
Tipsy 514 is a fun place, certainly one of the best "new ones" in Olympia – & they certainly made the right choice by having Charlie Saibel as a pianist… I know already that I will be visiting there every time he's playing!
I only got a few more snaps, which you'll see below… both Charlie's great piano playing and the Tipsy Piano bar come MOST HIGHLY RECOMMENDED by me…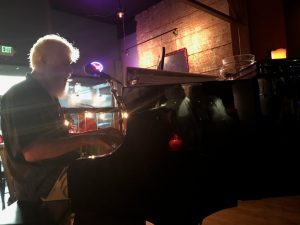 Dick Metcalf, publisher – CONTEMPORARY FUSION REVIEWS magazine