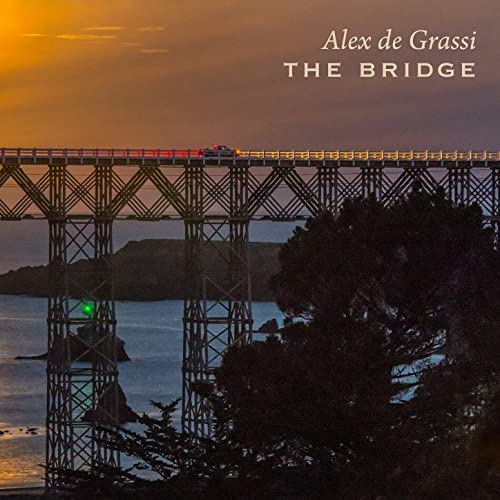 Uniquely refreshing guitar works Alex de Grassi – THE BRIDGE:  I listened to many of Alex's wonderful performances back in the day… it's been 17 years since his last solo guitar release, and if you're a listener who is easily enchanted by uniquely refreshing guitar works, you won't be able to do without this new release in your collection… to get an intimate video preview, watch him perform "The Deep" on YouTube…
…you'll want to also be sure you SUBSCRIBE to Alex's YouTube channel, where you'll find many more performances and albums – I did it right after watching the above video.
The easy lope-along pace that Alex creates for you on the 3:36 "But What" contains all the elements of a tune that DJ's of all types are going to fall in love with right away… I predict that you'll be hearing this one often on your favorite station!
Alex's interpretation of Jimi Hendrix's "Angel" is different from any you've ever heard; you'll be hitting replay on this tune frequently, I've no doubt… a sweet listening experience.
Deep overtones abound on the title track, "The Bridge"… if I were on the judging panels, this song would definitely be nominated for (and WIN) an award… it's full of life and imagery for the experienced listener!
My choice for personal favorite of the ten songs offered up is (without doubt) the 3:57 opener, "Mr. B Takes A Walk In The Rain"… it's definitely different and full of exciting changes.
I give Alex a MOST HIGHLY RECOMMENDED rating, with an "EQ" (energy quotient) score of 4.99 for this most memorable musical experience.  Get more information on Alex's website.                     Rotcod Zzaj
#Uniquely #refreshing #guitar #works #Alex #de #Grassi