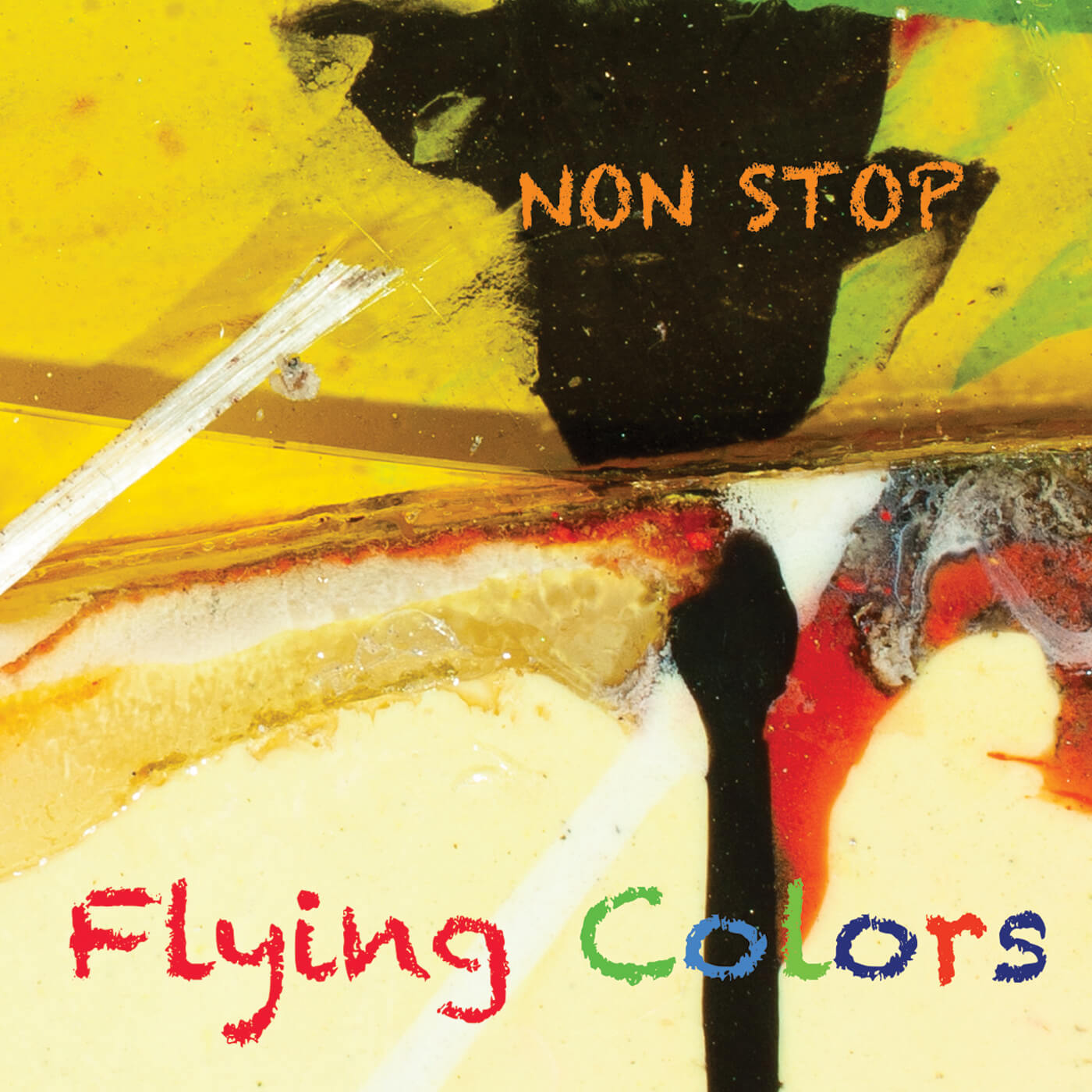 Brilliant colorful jazz Non Stop – FLYING COLORS:  One of my favorite bands from the Great Northwest is back with some brilliant and colorful jazz for you to enjoy… guitartist and synth player  John L. Holmes was reviewed on the band's last release, "Window Seat", where they got top marks from me, and the new album is even hotter.
In addition to John's superb guitar and synth work, you'll also hear percussion from Glenn Ayers, shekere (an African drum) by Robert Parrish, bass from Chris Holmes and saxophone by Lucas Simpson… on songs like the 5:49 "Live Wire", you'll love the percussion intro, and Lucas BLOWS that sax… DJ's everywhere will be plugging this tune in for frequent airplay, I'll guarantee it!
You can ride their groove in mighty fine fashion on the Non-Stop topic channel on YouTube, too…
It was easy to picture myself trudging across the tundra as I listened to the shimmering colors on "Turquoise Rain"… John's guitar is full of passion on this great track, and will lead you on a wonderful journey of discovery you'll be coming back to often!
There's a wonderful bluesy feel on "Pico De Gallo"… strong bass licks and well-recorded guitar will help you transcend the daunting tasks of the day… the band is really tight on this superb tune.
I found the opening track, "Solstice Songo", very attractive; lush tones and beautiful grooves are enhanced by the reeds on this very danceable tune… a definite Latin feel that will have you swaying all around the room!
"Starry Night" will paint strong images for you, as you might imagine from the song title… dark skies perhaps, yet full of light to guide you on your way… too cool, folks; I totally loved this tune.
It was no chore at all to make my choice for personal favorite of the dozen delightful songs offered up… "Since When" has very nice organ slipping and sliding down under the guitar, percussion and reeds… an excellent recording makes the experience even better!
I give "Non-Stop" a MOST HIGHLY RECOMMENDED rating, with an "EQ" (energy quotient) score of 4.99.  Get more information on John's Facebook page.       Rotcod Zzaj      
#Brilliant #colorful #jazz #Non #Stop