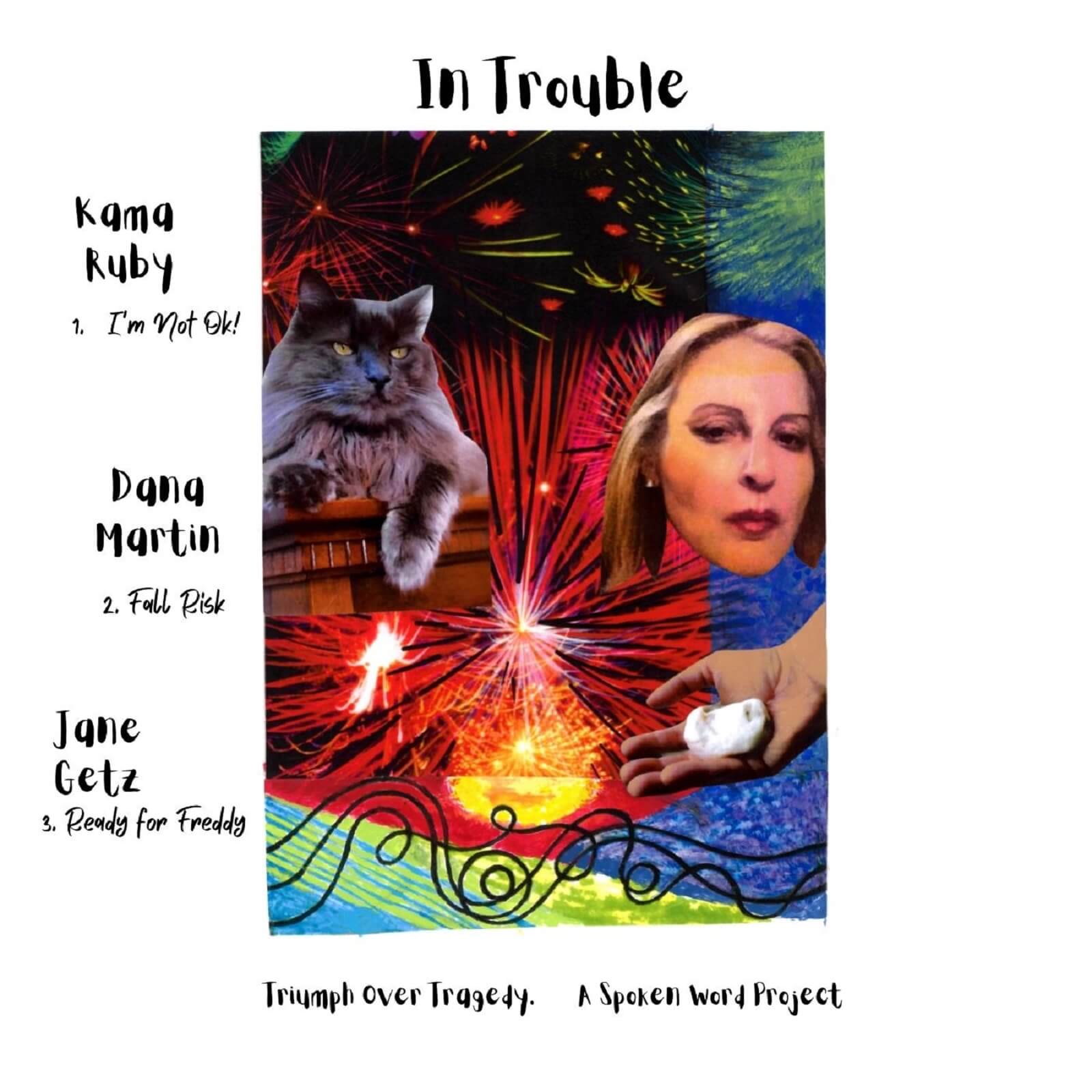 Trouble trauma triumph Jane Getz Kama Ruby Dana Martin IN TROUBLE – TRIUMPH OVER TRAGEDY:  I've reviewed Kama Ruby's work many times now, most recently on her "Miss You, Mitch" EP, where she got high marks for her unique creations.  Kama, Jane Getz and Dana Martin take it all in new directions (again) with exciting spoken word that gets you intimately acquainted with the three BIG T's – trouble trauma and triumph… before we get started on the individual performances, I strongly suggest that you watch the promo video for the album…

…if you haven't done it already, you'll want to SUBSCRIBE to Kama's YouTube channel, where you'll find many more entertaining videos.
A "warning" is somewhat in order… these ladies speak plainly about tough subjects, and if your "LTQ" (language tolerance quotient) is at a low level, you'll probably want to move right on down th' road… one of the jazziest spoken-word tunes I've heard (in a very long time) is performed by Jane Getz doing both keyboards and the spoken word… her performance on "Ready for Freddy" (about jazz giant Freddy Hubbard) takes you right ON down into the heart of an assault that changed her whole music career – a stunning salvo of words that I totally dug!
Dana Martin's dynamic spoken word description of an injury at a roller rink might seem kinda' "ordinary", but right at the end of her skating sequence, she takes a mighty fall that hammers home just how much life can change in only an instant… there's an amazing element of theater here, but what comes across more strongly than anything else is how the intervention of angels can actually happen!
Kama's spoken-word piece is the longest on the album, clocking in at 23:31… again, it's a tough subject, but she tells the story of how abuse, rape and addiction made it truly difficult for her on "I'm Not Ok"… here's a teaser that will make you feel her pain…
Yes, the emotion is raw, the perils are real and the language is a bit rough… but what shines through is that there is no solace in "PC"; that the only way "out" is through "dealing" with it… what I found most enjoyable is that each performer uses their word skills to tell you how they triumphed over it all!
I give all three ladies a MOST HIGHLY RECOMMENDED rating, with a (perfect) "EQ" (energy quotient) score of 5.00 – which means that the album also gets a "PICK" from me for "best spoken-word album".  Get more information on Kama's site for the release.                    Rotcod Zzaj
#Trouble #trauma #triumph #Jane #Getz #Kama #Ruby #Dana #Martin