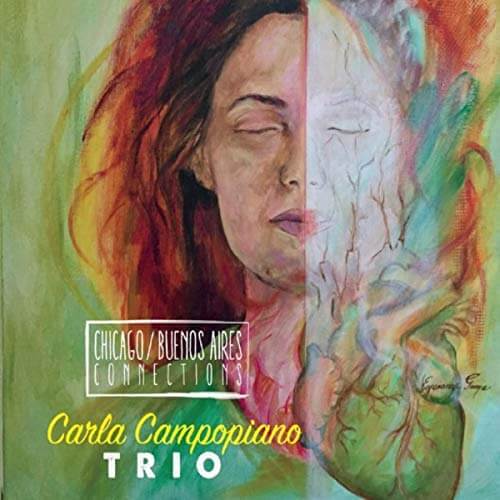 Tasty flute led jazz trio Carla Campopiano Trio – CHICAGO/BUENOS AIRES CONNECTION:  This short (19:33) EP serves as a very nice introduction to Carla's most pleasant jazz flute work… she's joined by Gustavo Cortiñas – drums/percussion/arrangements; Ángel Colacilli – guitar/bass/arrangements and Julián el "Piojo" López – guitar, and as you'll hear on songs like "Melancolico", they play with the high-energy and verve you would expect from talented professionals… a very enjoyable song.
The 2:43 closer, "Triunfal" (Triumphal), highlights Carla's joyful flute, with excellent percussion and drums rounding the tune out in a big way.
Carla has a YouTube channel up, but unfortunately it didn't have any videos of this grouping… be sure to SUBSCRIBE to her channel, though; perhaps the next release will inspire live video of performances to be added to the channel… I did manage to find a video that features her (with a different group, I believe), just so you can see her vivacious style of playing…
Of the six tunes offered up for your listening pleasure on this EP, I found "Zita" to be my personal favorite… very nice recording on this one, and the guitar work on the piece is absolutely stunning.
I give Carla and her bandmates a HIGHLY RECOMMENDED, with an "EQ" (energy quotient) rating of 4.97.  Get more information at the Scholz Productions web page for the release.             Rotcod Zzaj

#Tasty #flute #led #jazz #trio #Carla #Campopiano #Trio