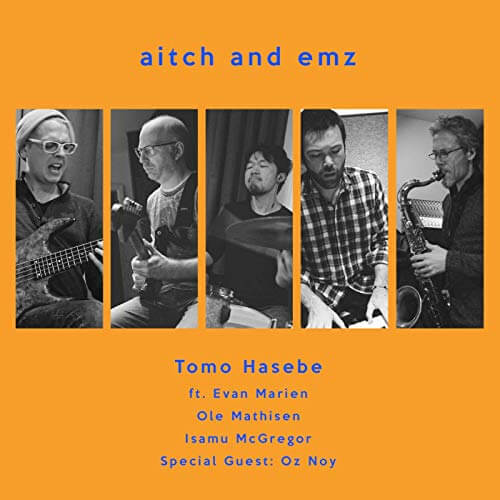 Scorching hot contemporary jazz Tomo Hasebe – AITCH AND EMZ:  For a long-time reviewer like me, being able to say that a new artist (new to me, I mean) is at the very TOP of their form is a rare thing indeed… before I start off on my review of Tomo's marvelous project, I (most strongly) recommend that you watch this live video recording of the song from the album simply titled "Christopher"…
Isn't their playing together just AMAZING? The album was recorded at Systems Two recording studio, Brooklyn NY and features the following players… Tomo Hasebe : composition, drums; Ole Mathisen : Sax; Oz Noy : guitar (1,4); Isamu McGregor : piano, keyboards and Evan Marien : Bass… other credits = Max Ross : recording;
Mike Marciano : mixing/mastering; Kaito Ando : editing and Ken Aihara : sound design (2)… be SURE you SUBSCRIBE to Tomo's YouTube channel, so you can see all the other sonic/visual marvels he has put together for you.
NOW, on to the album itself.. the gentle lead-in to the 8:02 "Daniel " is underpinned by some of the most "on-time" drum work you will ever hear, and they morph into some SOARING work at about the 1:20 mark… deep shadows and dark tones can be heard there, too… this composition AUTOMATICALLY earned a permanent slot on my iPhone – which doesn't happen all the time – a TOTALLY engaging song for all stripes of jazz listeners!
The 7:25 opener, "Mind Complex", gets right into the rhythm of things, and will hold you absolutely spellbound from the opening bar to the very last note… the high-end guitar solos throughout the piece take me back all the way to my earliest days in jazz listening (and playing, actually)… full of POWER, this piece will get stuck in your head & it WON'T let GO.
It was quite easy to pick my personal favorite of the five (long) tracks Tomo has offered up for this significant jazz adventure… the title track, "aitch and emz", has some of the best piano work I've listened to (yet) in 2019, and all the other players are equally "ON" through the entire 7:59 length… one of the STRONGEST tunes I've listened to lately.  Keep your ears on Tomo for his future recordings… I predict you will be hearing a LOT more from him in the next couple of years!
I give Tomo and his compatriots a MOST HIGHLY RECOMMENDED, with an "EQ" (energy quotient) rating of a (perfect) 5.00… meaning that he also gets my "PICK" for "best contemporary jazz album".  You can learn more about this exciting young composer/player on his Tomo Hasebe Music website. 
#Scorching #hot #contemporary #jazz #Tomo #Hasebe