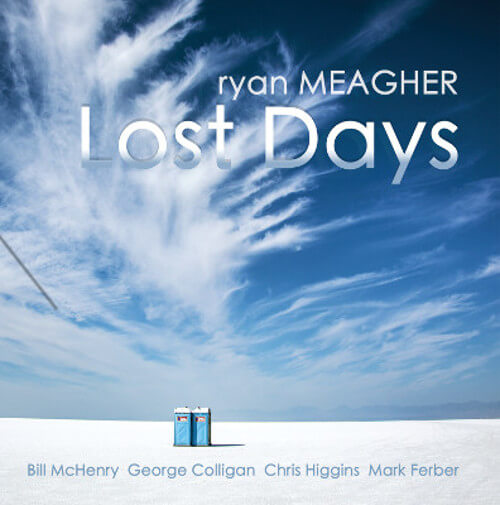 Ryan Meagher mighty hip swingin jazz album Ryan Meagher – LOST DAYS:  I will tell you right now – there's nothing "lost" about this superb jazz… on Ryan's latest release, his fantastic jazz guitar is joined by a full-tilt cast of players…. Bill McHenry, tenor saxophone; Chris Higgins, bass; Mark Ferber, drums; George Colligan, keyboards… and they ROCK the jazz OUT on this one, folks… as you listen to Ryan's composition, "Absurdly Delinquent" (no samples available yet, I'll add them when I'm made aware of when/where they're posted), you'll realize that your ears are in the presence of the true jazz masters… this tune cooks, folks!
George's keyboards just SHINE on the title track, "Lost Days"… though it has a strangely "country" flavor for a jazz composition, the energy it projects makes it an immediate favorite… I can hear/see this tune getting major airplay, in fact; each of the players gets the chance to display their high creativity, as well.
The blues dynamic is alive & well on "Brooks's Little Blues", which (of course) made it one of my favorite pieces on the album… the players are in "full celebration" mode on this great song, & you'll be a-tappin' those toes, I guarantee it.
Each tune on the ten-song album is so well-crafted (& played) that it was difficult to pick a personal favorite, but after my second listen through the entire album, it was (hands-down) the 7:12 opener, "Bayou Brasileira"… Bill's sax made it an easy choice.
I give Ryan & his stellar crew a MOST HIGHLY RECOMMENDED, with an "EQ" (energy quotient) rating of 4.99 for this excellent album.  Get more information (& a description of each track) on Ryan's page for the release.  You can also learn more about the album at the Fresh Sounds Records page.        Rotcod Zzaj