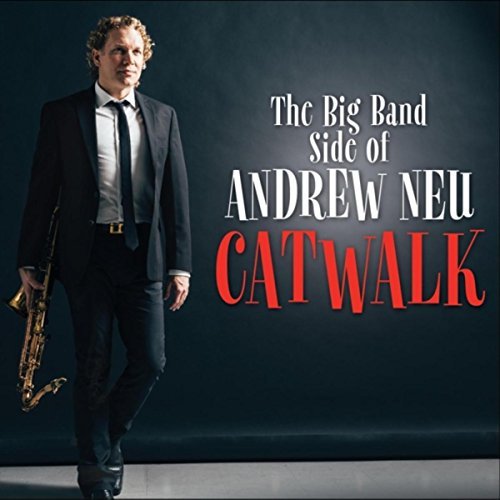 The Andrew Neu Big Band great big band fun The Andrew Neu Big Band –  CATWALK:  Andrew's tenor & flute work in this big band setting will give you great big band fun, and a good feeling about life, to be sure… just scope out the marvelous arrangements on the opener, "Juggernaut", to get an idea of how much joy Andrew & his players are going to bring into your life!  There's a great EPK video that you'll want to check out as well…
Andrew's arrangement on "What Is This Thing Called Love?" is bound to thrill your heart if you're a big band lover, no doubt about it, & the energy is way up over the top!
"Blue Sesame" is an original by Andrew, and as you'll hear, his talent & energy just shine right on through on this fantastic jazz piece; in fact, eight of the eleven songs are originals by him.
Andrew has a stellar cast of players supporting his music… Randy Brecker, Bob Mintzer, Wayne Bergeron, Eric Marienthal, Gordon Goodwin and Rick Brau all join in the joy… I have no doubt that you will find my personal favorite of the eleven songs offered up, "Zebrano" (another Andrew original), to your liking… if you're like me, you'll waste no time in getting this one embedded on your player (I did)… this is truly one of the best big band albums I've listened to (yet) in 2018!

I give Andrew and his excellent players a MOST HIGHLY RECOMMENDED, with an "EQ" (energy quotient) rating of 4.99 for this superb album.  Get more information at the Andrew Neu website.        Rotcod Zzaj