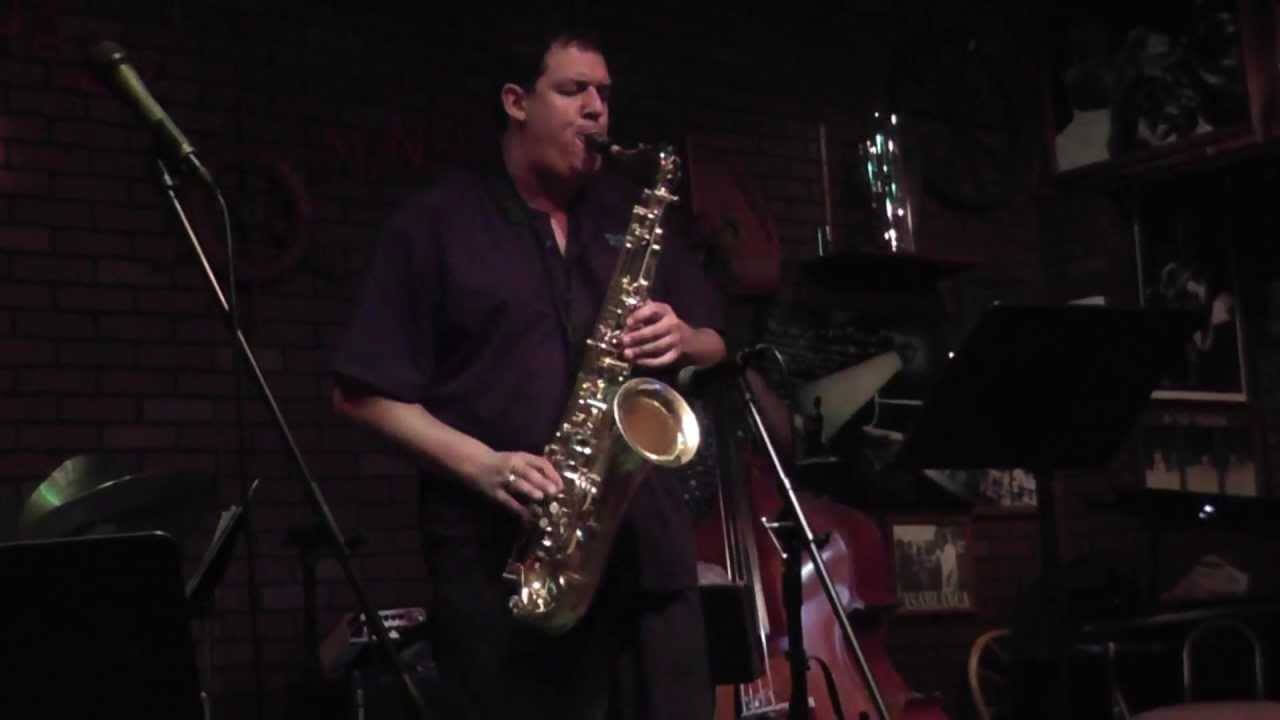 Rob Scheps dynamic Seattle show Rob Scheps – THE MUSIC OF GIL EVANS SEXTET INTERVIEW
Rob is a favorite player of mine, ever since I watched him play live here in Olympia, Washington, & actually, well before that; he has a show coming up in Seattle, so I decided to get in touch with him about that show… here are the results of that short interview…
Zzaj: Since I've watched you play live before (here in Olympia, Washington), I know that you're wide open to "different" jazz, and not afraid to challenge the norms… WHY? Who inspired you most as you were developing your own style, and who most inspires you now in the jazz world?
RS: Why? Because many styles of music are appealing. Certain musicians like Gary Peacock, Chick Corea, Herbie Hancock, Miles have played many disparate styles . Makes sense to me.  Inspirations for me include Sonny Rollins, Miles, Coltrane, Joe Henderson, Sun Ra, Ravel, George Clinton, The Residents, Marvin Gaye and Dinah Washington.
Zzaj: I notice, from your FB page, that you move around a lot, and have a lot of different projects going on at any one time… how do you keep up with such a hectic schedule?
RS: Carefully.  I keep a detailed calendar; plan ahead; and rely on Capricorn tendencies to help guide me in being well organized .
Zzaj: Regarding your upcoming Pacific Northwest tour (dates will be inserted here), your gig in Ballard, Washington is going to focus on Gil Evans… give my readers some insight into why you chose him as the focus for that gig… I mean, I know that he had complex arrangements, and that he played with many of the greats on the jazz scene, but what led you to choose him as your inspiration/theme for this show?
RS: I've been involved in the Gil Evans Band in NYC since the 1990's. A year of Monday nights at Sweet Basil; road gigs; and the new double cd we recorded in 2016; before that I played a concert with Gil at age 17- playing baritone sax and bass clarinet.  Life changing; I didn't choose Gil – that music chose me. The subtleties, colors and moods are nonpareil.  Just sublime music, again, in many styles.
Zzaj: I didn't know it before looking Gil up, but he was a big fan of guitarist Jimi Hendrix… will your show include any tunes like that?
RS: Yes.  Gil made an LP that's not real well known, "The Music of Jimi Hendrix".  Jimi was slated to record with Gil but Jimi died a week before the record date. Our loss.
Zzaj: Who do you have playing with you on your Gil Evans tribute, & why did you pick those specific players?
RS: I have Jim O'Connor, a tremendous trumpeter from NYC.  He's worked with Toshiko Akiyoshi, They Might Be Giants, and The Monkees.  Jim is my colleague on the Gil Band in NYC & in my NY Band, The Rob Scheps Core-tet.  Phil Sparks on bass is my bandmate every time I play Seattle.  He's an incredible talent.  Super solid and creative. The Youngbloods joining us for the Ballard show are Jeremy Shaskus (alto sax); Will Lone (drums); and Joel Bean (keys)… plus Tom Varner – a great jazz French hornist who teaches at Cornish.  He's also our old friend from NY.  He & I played with the Gil Evans Orchestra at Spoleto in Charleston SC together.
Zzaj: Your FB presence decries the current antics of the Orange slime… how can music help to change the direction of our world (or can it)?
RS: Music has sometimes made a change: John Coltrane's "Alabama"; Pete Seeger's "Where Have All the Flowers Gone"; John Lennon's "Working Class Hero"; but music won't tangibly change what those shitheads in DC do. It's up to all of us to resist their fascism .
Zzaj: Where are you actually from? I mean, I see references to UK, Portland, Oregon, NYC & many other places… do you have a homestead, or are you (like Poppa) just a rolling stone?
RS: Does it matter? Bi -coastal: Oregon & NYC.
Zzaj: My magazines (IMPROVIJAZZATION NATION and CONTEMPORARY FUSION REVIEWS) have a lot of readers who are players, & a lot who are just starting down that road… based on your own experience, is music a worthwhile career, or should folks make sure they've got a "day job", too?
RS: Big question. The music business blows many types of chunks.   Ergo, be versatile, or have a day job, or starve . Those are some of your options.