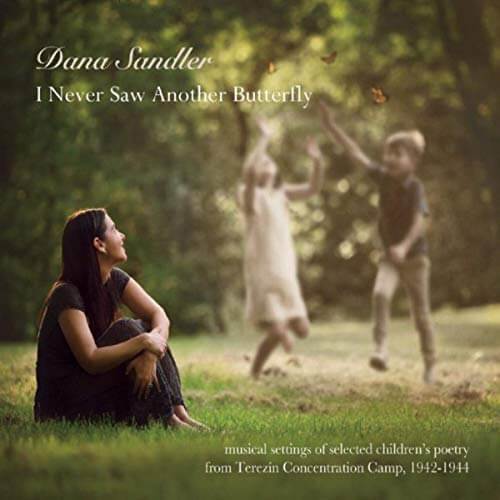 Powerfully poignant piano memories Dana Sandler – I NEVER SAW ANOTHER BUTTERFLY:  This is my first experience listening to Dana's powerfully poignant piano creations, and it's a sonic experience that is timeless and necessary in today's troubled times.  A few intimate glimpses of the players are available in the beautiful trailer created for the release…
…be sure to SUBSCRIBE to Dana's YouTube channel, so you can watch more performances as she posts them there.
Dana's intriguing vocals and compositions in memory and tribute to the tragedies of Holocaust youth (based on a book of the same name published in 1959) are stunningly supported by a cast of powerful players… Carmen Staaf: piano; Jorge Roeder: bass; Austin McMahon: drums; Peter Kenagy: trumpet/flugelhorn; Rick Stone: alto sax/clarinet and special guest Michael Winograd: clarinet with Rory Sandler McMahon: voice… songs like "Tears" (samples not available until 20 April, 2020) remind us (sadly) that life sometimes requires pain in order to see the beauty in it!
Hope for a brighter future emerges in sensitive pieces like the 3:49 "On a Sunny Evening"… Dana's voice helps you to see the possibilities on this brilliantly performed tune… I can (easily) see this song getting HUGE airplay on stations 'round the globe.
Of the dozen sonic wonders offered up, I found "I'd Like to Go Alone/Ani Ma'amin" to be my personal favorite… lilting vocals and duets of the poetry make it a most memorable experience!
I give Dana and her musical friends a MOST HIGHLY RECOMMENDED rating, with an "EQ" (energy quotient) score of 4.98 for this highly insightful album.  Get more information on Dana's website.               Rotcod Zzaj
#Powerfully #poignant #piano #memories #Dana #Sandler