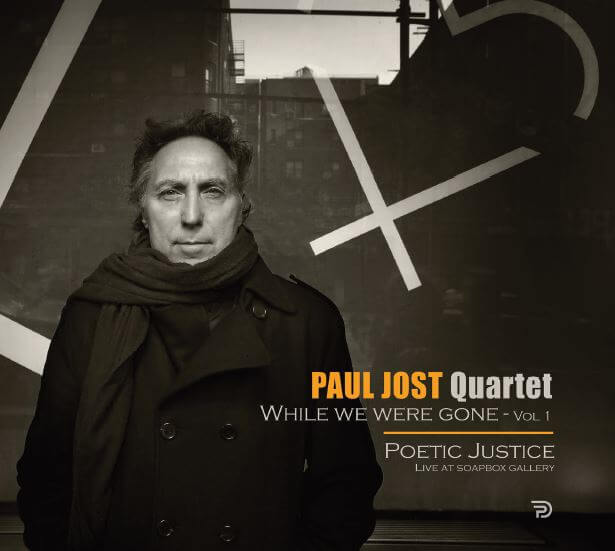 Passionate jazz vocal storytelling Paul Jost – WHILE WE WERE GONE:  I first fell in love with Paul's passionate jazz vocal work when I reviewed his "Breaking Through" album some years back (he got a "PICK" from me), and his new double-CD will smoke your ears even more… you'll see why I say that when you watch him perform it on this video from the live show…
If you enjoyed that, be sure to SUBSCRIBE to Paul's YouTube channel, where you will find many more… I subscribed immediately.
Paul's unique interpretation of "Bye Bye Blackbird" is absolutely the hippest I've ever heard… what's so chill about his singing is his integration of "scat" without any sign of stress or difficulty… DJ's are gonna' catch that vibe right away, and this song will BE on your local stations soon, folks!
It was only a matter of seconds before I fell in love with "Gentle Rain"… the bass, piano and drums mesh perfectly with Paul's captivating vocal, and there's a spirit of "backroom jazz" throughout the tune that will have you coming back to listen to it over and over (and OVER) again.
I honed in on the 7:55 "Centerpiece" as soon as the first note struck my headphones… when it comes to "hep", it just don't get no BETTER, jazz lovers… the harmonica on this song is right up at the top of the charts, and the rest of Paul's quartet will BLOW your SOCKZOFF, people… this tune was (without question) the absolute best jazz vocal performance I've heard (yet) in 2021!
Paul and all his players get a MOST HIGHLY RECOMMENDED rating, as well as a (perfect) "EQ" (energy quotient) score of 5.00… that means, of course, that they also get a "PICK" from me for "best jazz vocal live show".   Get more information on Paul's website as it becomes available.                   Rotcod Zzaj
#Passionate #jazz #vocal #storytelling #Paul #Jost