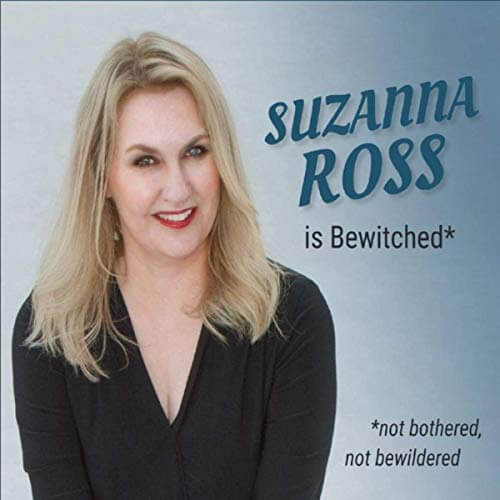 Impressive versatile jazz vocal debut Suzanna Ross – BEWITCHED, NOT BOTHERED, NOT BEWILDERED:  It's always pure pleasure to listen to new music, and Suzanna's impressive versatile jazz vocal debut CD is quite exciting.  You can see some nice stills and studio shots on her promo video…
…be sure you SUBSCRIBE to Suzanna's YouTube channel, so you can catch other performances as she posts them.
The absolute mellow vibe Suzanna creates on the lushly laid-back 2:39 "Dreamer" will make it a favorite for jazz DJ's 'round the globe… it will be getting a LOT of spins, I've no doubt!
The players she chose to accompany her (Gregory Toroian (Piano); Skip Ward (Bass); David Silliman (Drums) are all top-flight musicians, as you'll hear when you scope out the lively and engaging opener, "Haven't We Met"… this kind of vocal jazz puts the "ultra" in ultra-cool.
I loved the (short) piano/bass intro for the 3:00 "Mr. Wonderful", and you'll find yourself listening to this one over and over again, I've no doubt!
It was (without question) the upbeat and high-energy "Summer Me, Winter Me" that won my vote for personal favorite of the fifteen superbly performed jazz vocals Suzanna presents for your jazz joy.
I give Suzanna and all her players a MOST HIGHLY RECOMMENDED rating, with an "EQ" (energy quotient) score of 4.99 for this splendid debut release.  Get more information on Suzanna's website.             Rotcod Zzaj
#Impressive #versatile #jazz #vocal #debut #Suzanna #Ross