I'd forgotten how quickly an enthusiastically-played samba can erase the week's stresses, until I listened to Guillermo Marigliano's "LA Samba (Los Angeles Samba)." Check out the session video below to get on the same emotional wavelength while we explore the rest of  this passionate new EP, Inner Path.
In the video, we see renowned musicians Josh Nelson on piano, John Leftwich on bass, and Aaron Serfaty on drums…the four met up along the way at gigs and sessions, and now make up the Marigliano Quartet. It's a treat to see these pros at work, with Guillermo on guitar, and you can tell they are loving it, too.  Super tight performances with a brightness that puts a smile on your face, works its way down to your shoulders, and eventually, you're dancing. 
Next, "Bonita" is the gentlest piece upon opening, and just melancholy enough that you'll swear you've heard it in some old foreign film. Here, Leftwich keeps us grounded on upright bass, while Nelson transports us on the keys, and Marigliano switches to his Godin guitar, perhaps a benefit of his recent sponsorship.  Wise choice, as he clearly loves the instrument, and plays as if it's a part of him. In this, the longest of the three tracks (6:49), reflectiveness turns to renewed determination as a jam picks up around the 5:00 minute mark, and we hear the exciting deftness of Marigliano's abilities coming to the forefront.
Originally from Argentina, Guillermo has a long care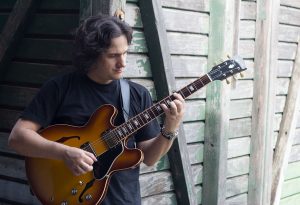 er as a professional musician and producer with six albums of original compositions, Latin Jazz Fusion and World Music. He has performed concerts and tours in Europe and Latin America, and now call Los Angeles home.  These worldly influences bring us to "Tango Blues" a musically-elevated piece with a few surprises, bringing to mind the great Astor Piazzolla.  There are masterful exchanges among the four, especially between Marigliano and Nelson, while Serfaty's deft touch on drums deserves strong kudos.
Inner Path is more than a fantastic new EP by Guillermo Marigliano. Paired with his enthusiastic support of weekly jams throughout the city, it may be signaling a new spark desperately needed in the LA music scene.  Catch his live gigs while you can, join in on the jam, or listen to his Latin jazz fusion and world music on Spotify.
Credits:
Marigliano Quartet "Tango Blues" (Guillermo Marigliano) Recorded Live at Tritone Studios January 25th 2023 Los Angeles, CA
Guillermo Marigliano – Guitar Josh Nelson – Piano John Leftwich – Bass Aaron Serfaty – Drums
Engineered by: Talley Sherwood Mixed & Mastered by: Talley Sherwood at Tritone Studio http://www.talleysherwood.com/
Videography: Vecc Schiafino
Produced by: Guillermo Marigliano
Official website: www.guillermomarigliano.com.ar