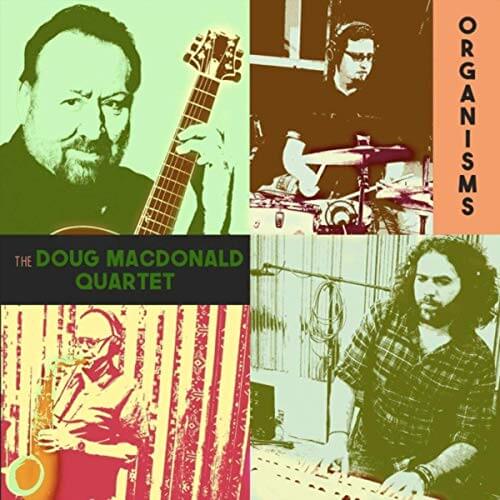 Exciting swinging quartet jazz Doug MacDonald Quartet – ORGANISMS:  If this is your first listen to Doug's exciting, swinging jazz guitar work (as it is mine), you're going to want to get to know him a bit better, so I recommend you start off with this ultra-cool trailer video they made for the album…
…you can see & hear that Doug really gets into his playing, as do all the players with him (Bob Sheppard – Tenor Saxophone; Carey Frank – Hammond B3 Organ; Ben Scholz – Drums)… to watch/listen to many more of his tunes (this is his 14th album as a leader), be sure to SUBSCRIBE to Doug's YouTube channel.
Performances like the quartet do on the 5:54 "Centerpiece" definitely stand out as WAY above average… Carey's Hammond on this tune make the album worth the purchase… super-groove, with lots of life… I predict that this will be hitting jazz DJ lists in regular rotations, so you're bound to hear it soon on your favorite station!
One of three MacDonald originals on the album is "Jazz For All Occasions"… it's getting a spot on my car iPhone player for permanent… a mighty mellow and laid-back sort of tune that shows off the high talent of each player in the group.
It was easy to choose my personal favorite from the ten great songs offered up… "L & T" starts off with a swirling montage of all instruments, but very quickly resolves into one of the swinginest tunes I've listened to (yet) in 2019… right at the :50 mark, they soar off into the jazz-o-sphere to take you on a ride you'll never forget… SUPERB jazz, people!
I give Doug and his players a MOST HIGHLY RECOMMENDED, with an "EQ" (energy quotient) rating of 4.98 for this splendid jazz set.  Get more information about this power player on Doug's website.         Rotcod Zzaj
#Exciting #swinging #quartet #jazz #Doug #MacDonald #Quartet