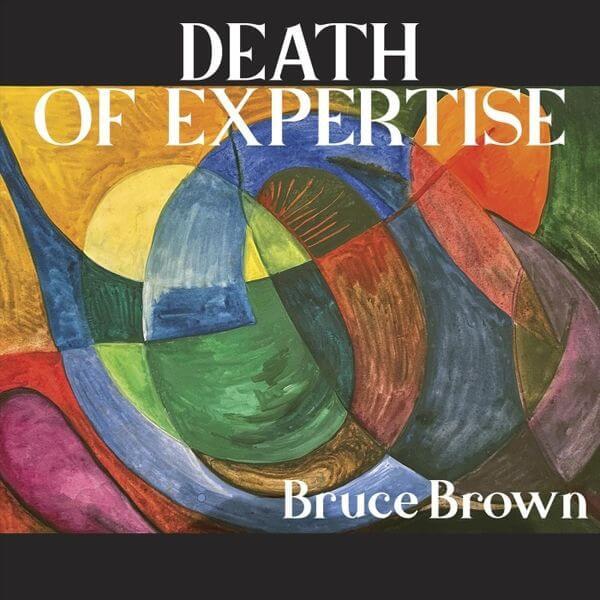 Witty winsome hip vocal jazz Bruce Brown – DEATH OF EXPERTISE:   When you want "cool" in your jazz, you'll definitely need to check out vocalist/songwriter Bruce's witty & winsome hip vocal jazz on this February, 2021 release… while I didn't find LIVE performances (hint! hint!) on Bruce's YouTube Topic channel, you can listen to the entire album there…
Bruce's splendid vocals are joined & supported by his ultra-cool players… John Harkins – piano; Brendan Clarke – bass; Andrew Dickeson – drums; Steve Brien – guitar; Steve Crum – trumpet and Glen Berger – saxes and alto flute… especially on tunes like the soothing & swingin' "They're Everywhere"… what really stands out on this tune is Bruce's exceptional lyrical talent – listen closely to each & every word to truly get his message… jazz DJ's are going to be plugging this one into their playlists OFTEN!
"Back in the Day" is only 2:35, but it will enlighten you about the differences 'twixt yesteryear & today's online fiascos… John's piano is absolute perfection, and Bruce's lilting vocal will definitely lift your spirit high.  The tune will be getting lots of "replay" action here in my listening studio.
It was an easy choice for my personal favorite of the fourteen fantastic tunes Bruce offers up for our jazz adventure… the solid opener, "Death of Expertise", is (once again) an example of jazz lyrical excellence beyond compare… you'll love it as much as I did, I have no doubt (think Mose Allison on steroids in the 21st Century).
I give Bruce & his players a MOST HIGHLY RECOMMENDED rating, with an "EQ" (energy quotient) score of 4.98.  Get more information on Bruce's website.    Rotcod Zzaj
#Witty #winsome #hip #vocal #jazz #Bruce #Brown