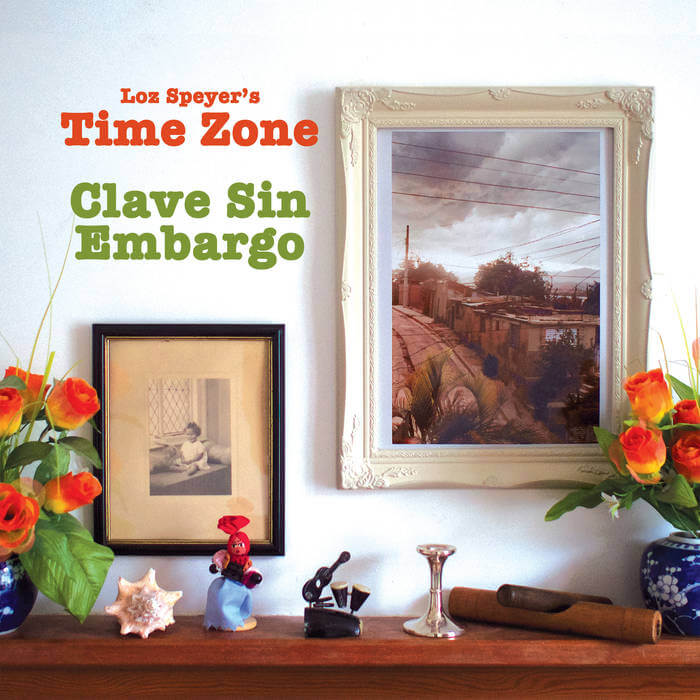 Ultra hip rhythmic jazz swing Loz Speyer's Time Zone – Clave Sin Embargo:  Trumpet and flugelhorn player Loz Speyer gives you absolutely ultra-hip rhythmic jazz swing (of the Cuban/Latin variety) on this great new release.  As always, the best way to start with a new album is to watch the players… here's a video for their live performance of "Mood Swings" in the studio…
…as you saw (and heard), their high energy performance will send jazz lovers to Nirvana… be sure to SUBSCRIBE to Loz's YouTube channel, where you'll find many more exciting videos.
The rhythmic changes & shifts on the 8:16 "Checkpoint Charlie" made it an "instant hit" here in my Zzaj Productions review studio… flawless recording and very interesting call/response make the tune come alive… this will be getting some MASSIVE amounts of airplay, I predict!
In addition to trumpet and flugelhorn from Loz, you'll also hear 
Martin Hathaway – alto sax, bass clarinet
; Stuart Hall – guitar; Dave Manington – double bass; 
Maurizio Ravalico – congas and Andy Ball – drums… you'll find yourself ready to dance the night away on the lively 7:33 opener, "Stratosphere"… I just LOVED the percussion on this tune.
I totally dug the 7:03 "Guarapachanguero"… in fact, I can't get this tune out of my head… it's my personal favorite of the eight (long) performances offered up for your swingin' Cuban/Latin jazz pleasure.  The album is so fine that I immediately added it to my iPhone player (& that doesn't happen too often).
I give Loz and his great players a MOST HIGHLY RECOMMENDED rating, with an "EQ" (energy quotient) score of 4.98 for this most interesting album.  Get more information on the Loz Speyer website.              Rotcod Zzaj
#Ultra #hip #rhythmic #jazz #swing #Loz #Speyer's #Time #Zone