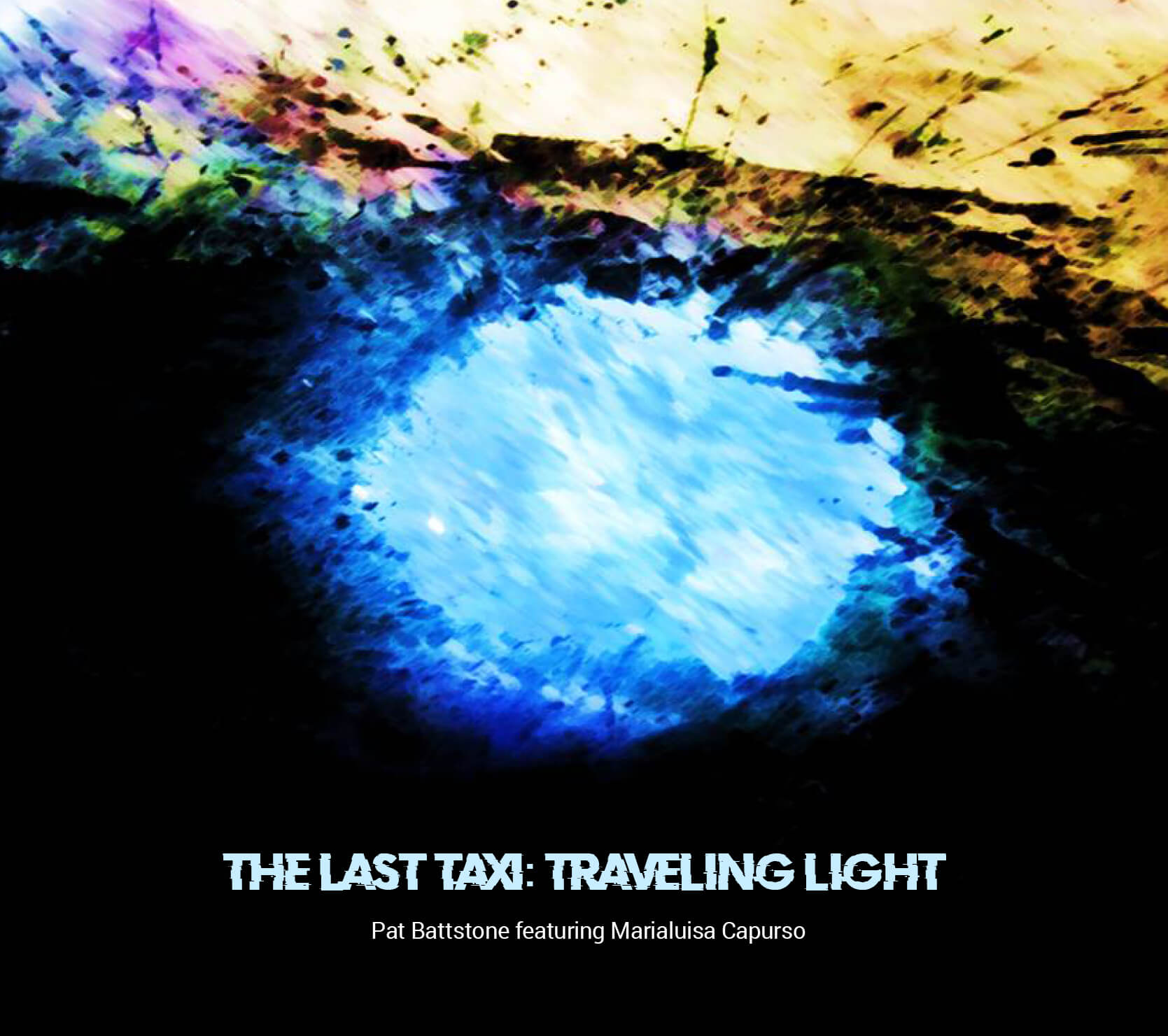 Magical rides abnormal perceptions Pat Battstone featuring Marialuisa Capurso – THE LAST TAXI/TRAVELING LIGHT:  I've long been a fan of Pat's magical (& yes, at times, abnormal) keyboard playing… his work with vocalist/player Marialuisa Capurso on their ELEMENTS album was so amazing that it got a "PICK" from me, and this new release takes you on an even more enchanting ride into oblivion.
As you listen to Marialuisa's vocal wizardry on "Transmission Warp", you will be drawn deeper and deeper into the ether-space, and find yourself wondering where you've been wandering… Pat's modulated Fender Rhodes on this piece gives a sensation of hyper-drive in a most pleasant fashion, and all the players (Pat Battstone – Piano, Modulated Fender Rhodes; Marialuisa Capurso – Vocals,bells, aluminium panel, music box, ocarina, electronics; Todd Brunel – Clarinet, Bass Clarinet; Chris Rathbun – Bass and Joe Musacchia – Drums) are spinning the dream deeply on this marvelous performance!

The album was recorded in July of 2017 and released on the Italian label Setola di Maiale in Nov 2018… as you dig down deeply into pieces like "Sandstorm in Tangiers", you'll find yourself even more intrigued, and realize that your ears are being treated to a journey that few others have experienced, and totally fulfills the sentence in the liner notes… "Able to traverse quickly to unimagined places"… if I were a member of the award panels for improvised performance art, this one would be nominated and WIN (hands down)… absolutely superior work.
The delightful blend of instruments and nuances on "Mistral" will provide much pleasure for your aural appendages, whispering like the wind it's named after… I particularly loved Pat's keyboard work here, and Marialuisa's vocal is amazing on this tune.
It is Battstone's Rhodes work on "Broken Promises and Dark Secrets" that makes it my personal favorite of the ten journeys offered up… it's clear that his new title (Colossus of Rhodes) is well-deserved… again, the instruments all blend together seamlessly, and make for a completely absorbing sonic adventure… it's true free-form jazz in all the glory that represents!
I give Pat and Marialuisa a MOST HIGHLY RECOMMENDED, with an "EQ" (energy quotient) rating of 4.99 for this superb album.  Get more information at Pat's website, or on the Italian label Setola di Maiale site.         Rotcod Zzaj
#Magical #rides #abnormal #perceptions #Pat #Battstone #featuring #Marialuisa #Capurso