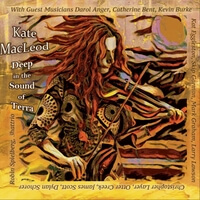 Kate MacLeod wondrous diverse viofiddle Kate MacLeod – DEEP IN THE SOUND OF TERRA: Before I even start writing my impressions of Kate's wonderful and diverse compositions on violin, I very strongly recommend that you watch her stunning video for the opening track, "Blue Sky Blue Prelude"…

…not only is the sound quality fantastic, the beautiful landscapes she draws inspiration from are brought (very) significantly to life through her talented experimental skills.  Since you're there already, be sure to SUBSCRIBE to Kate's YouTube Channel, where you'll find many other great works from her.
If you love violin with the soul of the land as the main character, you'll fall in love with "Apology to the Native Rock" as quickly as I did… Kate has a stellar cast of players with her, which you can read more about on her CD Baby page for the album.
Since I reside in the area that "The Moon and Mount Rainier/Arriving Vashon" was penned for, I can tell you that Kate's impressions of the Great Northwest are right on target… there's a sense of freedom conveyed here that is (in part) the whole reason I've lived up here for so many years.
The Celtic influences and grand guitar accompaniment on "Maxfield Parrish Sky" is absolutely beautiful, and the whistles that weave through the tune make it a perfect piece for morning wakefulness and celebration of life.
I found myself listening to "Sand in Breeze/Sunrise on the Colorado Plateau/Desert Rain" over and over again; not just because my friend Robin Spielberg was a player on the song, but because the 6:11 length allowed Kate's perfect pacing and gentle approach on her violin to weave joy into the tune, especially right at the 4:20 mark… the keyword here is "jubilant", methinks.
After my second listen through the entire 51:17 CD, I knew for certain that the longest cut on the album would be my pick for personal favorite… "The Land Before Man/Iowa Hills/Blow Me Down Brook" clocks in at 8:10, and gives each of the players a chance to shine brilliantly… headphones are a MUST, at least for your first listen through this piece, and in fact, the entire release. 
I give Kate and her players a MOST HIGHLY RECOMMENDED, with an "EQ" (energy quotient) rating of 4.99 for this stunning set of music dedicated to the very earth we walk upon.  Get more information on Kate's website.           Rotcod Zzaj
#Kate #MacLeod #wondrous #diverse #viofiddle