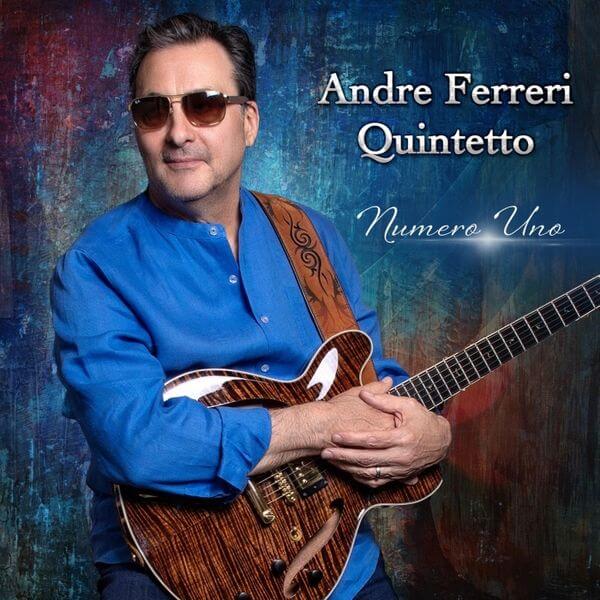 Exciting expansive freewheeling jazz Andre Ferreri Quintetto – NUMERO UNO:  I can promise you won't find jazz as richly toned and rewarding as the exciting expansive freewheeling jazz guitarist Andre presents for your ears… the release isn't official until May 31st, 2021, so (I presume) that's why there weren't LIVE videos from album performances, but to get a taste of Andre's truly unique jazz guitar style, watch this video from an earlier album with his band Airstream…
You'll find a LOT more videos to enjoy when you SUBSCRIBE to Andre's YouTube channel, too…
There's a kinda' "underground jazz vibe" on "Good Bones", supporting Andre's magical guitar, too…  Ziad Rabie- tenor sax, Anna Stadlman – acoustic bass, Kobie Watkins – drums, Mark Stallings – acc piano, B3, Phillip Howe – acc piano and Sean Higgins – acc piano… the bass/drum lead-ins make it happen that way, and you'll be slip-slidin' along with your headphones on, to be sure!
Jazz beauty just seems to come natural to these players, as you'll hear on one of my favorite tunes on the album… "Making Major Changes" is just the kind of mellow (yet crisp) jazz that broadcasters 'round the globe are always looking for – classic jazz… the piano on this performance is absolutely stellar.
The eleven songs offered up on the album are all originals by Andre, and the title track is an example of just how brilliant his creative energy is… "Numero Uno" is one of the most beautiful jazz performances I've heard (yet) in 2021!
I had NO doubt what my choice for personal favorite was going to be… with Mark's B3 creepin' in, around & through "Uptown Swing", I found myself literally vibrating with the energy produced on this superb jazz song… the 7:47 length (longest tune on the album) gave each player an opportunity to express themselves boldly.
I give Andre and his players a MOST HIGHLY RECOMMENDED rating, with an "EQ" (energy quotient) score of 4.99.  Get more information on the Laser Records website.  Rotcod Zzaj
#Exciting #expansive #freewheeling #jazz #Andre #Ferreri #Quintetto