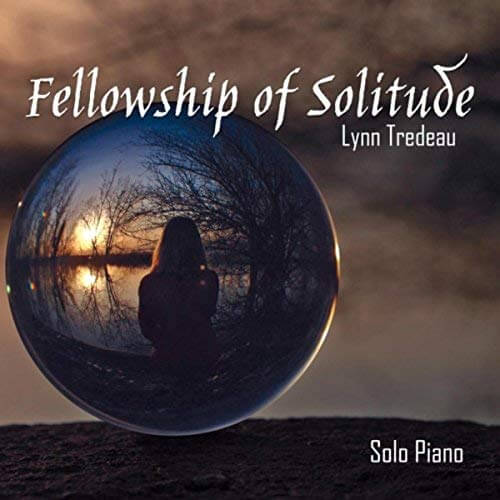 Evocative and engaging solo piano Lynn Tredeau – FELLOWSHIP OF SOLITUDE:  My review of Lynn's "Shifting Sands" made it clear that we would be hearing much more from this highly evocative and engaging pianist… she got high marks from me for that April, 2017 release.

On her new album, slated to be released on 20  July, 2018, masterfully illumines the serenity and joy that can be achieved when in the company of oneself… the title track and opener, "Fellowship of Solitude", is a perfect listen for those moments, and will help you in your own healing process, to be sure!  You'll realize that very clearly as you watch her first video for the new album…
…this is, in fact, one of the most engaging videos for solo piano I've watched (yet) in 2018… I wouldn't be at all surprised to find it getting nominated for an award… stunning visuals of the area around Lynn's new home in Idaho are woven very tastefully in with her wonderful playing; I just love that bridge, and may go to visit it later this summer, since it's only a few hundred miles from my own abode.
I fell in love with the wonderful overtones Lynn pulls from her keyboard on "Call of the Owyhees"; it seemed to bring the ascending spirits of the mountain range near her home right into my living room… full-bodied and spiritually uplifting.
If I were in a position to nominate songs for awards, I would certainly put "Land of Forgotten Dreams" right at the top of my list… though one of the shorter pieces, it's my personal favorite of the dozen creations Lynn has shared for your aural pleasure. Melancholy, yet able to resurrect your abandoned dreams… GREAT lower register work on this piece.
I give Lynn a MOST HIGHLY RECOMMENDED, with an "EQ" (energy quotient) rating of 4.99 for this excellent solo piano album… it's a treasure to behold.  Get more information on Lynn's preorder page for the album.          Rotcod Zzaj
#Evocative #and #engaging #solo #piano #Lynn #Tredeau