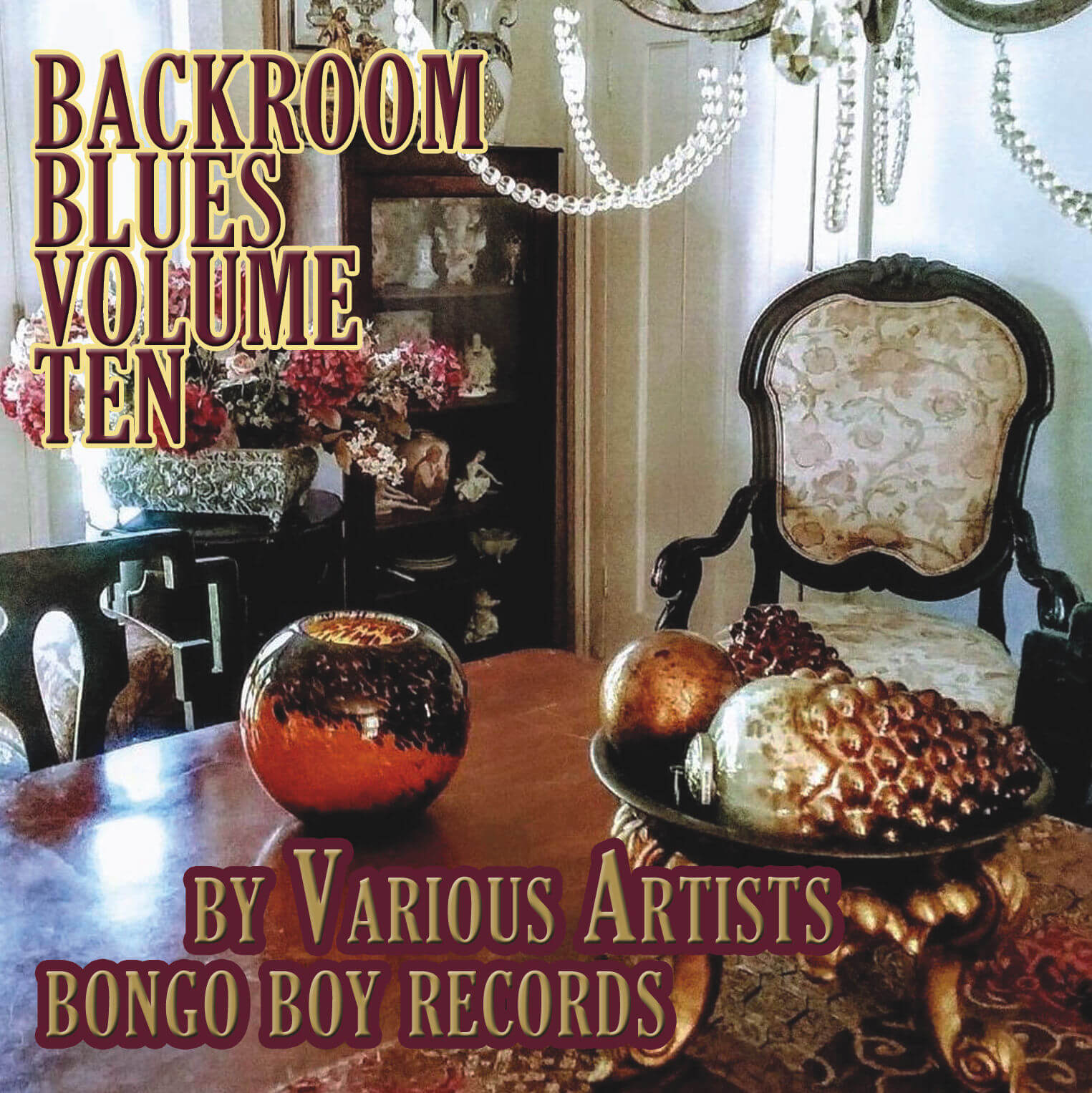 Down home blues blast Bongo Boy Records – BACKROOM BLUES, VOL. TEN BY VARIOUS ARTISTS:  For listeners not acquainted with what the blues is all about, I'll tell you right now… it's NOT something you can "requisition"… you either know what they're about, or you don't… the down home blues blast our friends at Bongo Boy Records have put together for you will help you understand, to be sure… starting off the lineup is Sheba The Mississippi Queen, with her stunning "Keeping What I Got"…
MOTU (Music Of The Universe) is up next, with "Kentucky Bourbon Warms Me More Than You Do"… excellent guitar leads into the tune, and a scorching blues vocal emerges with all the soul you need for your bluesy Sunday morning… this tune will be getting a LOT of airplay, I predict!
Ain't nothin' expresses the blues better than heavy-duty guitar, and "Blues Magoo feat. Mark Ervie de Jesus" from The L&M Project Band takes you down DEEP into it; Mark's vocal is an instant hit here in my Zzaj Review studios (in fact, it was this track that prompted me to add the entire album to my iPhone player – only reserved for the very BEST, folks).
Ann M. Wolf knows exactly the laid-back groove you've been searchin' for, and on "I Feel A Song Comin On", she bares her very soul for you… this is one of the best blues songs I've listened to (yet) in 2021!
Doug Byrkit is a brand-new name here, but he won't be a stranger any longer… on the 3:58 "Don't Call Her Mama", the rhythm is right ON, folks… solid bass lines comp against great lead guitar lines – this one will have you up on your feet & dancin' in seconds.
"Crazy", from Big Bone Daddy, has some super harp woven right into the fabric, but since I'm an organ player myself, it was that rockin' organ that made it one of my all-time favorites!
The L&M Project Band is back again with "You and I feat. Kissey Mea"… Kissey's vocal is strong and the lyrics will bring you many memories of those you've been in love with… again, the organ (though not right out in front) is superb.
Lyia Meta is an international multi award-winning singer and songwriter, and her deep-toned vocal on "Daylight" will show you why… be sure and listen to this one with your headphones on, folks!
A big part of the blues is that feeling of being down, and Bible Belt Blues takes you THERE, folks, on "Down The Rabbit Hole"… bone-chillin' belly-crawlin' blues that will stay in your head for days.
I'm a BIG fan of harmonica when it comes to blues, and Rev. Yolanda leads off "A Man Ain't Supposed To Cry" with some sweet, sweet harp… this is another song that blues DJ's will be adding to their playlists often!
Jonah Whale tells you the story of "My Tattoo" with pure passion; a powerful vocal that hips you right away to what those ol' blooz are all about.
It's often the shorter tunes in the blues realm that totally blow you away, and "Six Pack Blues" from Charles Brown is surely one of those… because it's only 2:06, I will be hitting "replay" often – and you will be, too!
Bible Belt Blues  returns with "Are You Ready?", and they treat you to some of the tastiest lead guitar you've ever listened to… absolutely SMOKIN'.
The closing track of this 14-song blues bonanza is "No Man's Land", from Grit's Guitar, and I knew as soon as I listened to the first two bars of this blues guitar gem that it was gonna' be my pick for personal favorite… just over nine minutes of exquisitely soulful pickin'!
I give Bongo Boy Records a MOST HIGHLY RECOMMENDED rating for this excellent collection of bodacious blues, with an "EQ" (energy quotient) score of 4.99.  Get more information on the Bongo Boy Records site for the album.                            Rotcod Zzaj
#Down #home #blues #blast #Bongo #Boy #Records