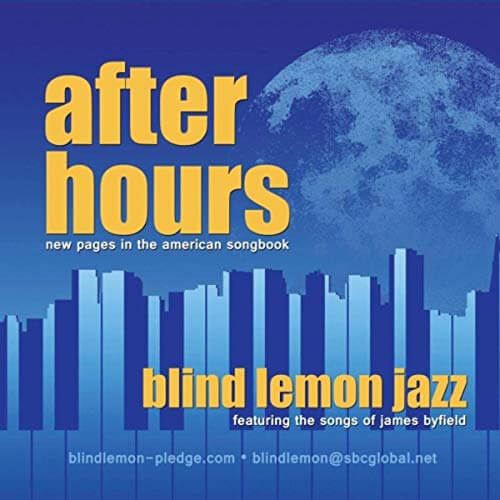 Beautiful bluesy late night swing Blind Lemon Jazz – AFTER HOURS:  If you've been looking for bluesy late night swing songs, you're going to fall RIGHT in LOVE with Blind Lemon Pledge's (aka James Byfield) music… truth be told, I can't stop thinking about Ry Cooder… yeah, folks, this is that good.  Though it's not from this album, here's a solo video that will give you clear insight into his style…

…be sure to SUBSCRIBE to James's YouTube channel, where you'll find many more performances to enjoy.
In addition to James's guitar & vocals, you'll also hear Marisa Malvino doing vocals; Ben Flint on keyboards & arrangements; Peter Grenell's bass and Joe Kelner drums… one of the hippest tracks on the album is "Rich People in Love" (samples not available until early July)… I just loved Ben's keyboard on this one!
The recording and execution on "You Had Me At Goodbye" is just flawless… this one definitely crosses the "late-night, dark club jazz lines"… it's also very danceable… a truly cool song.
From his first album, "Livin' My Life With the Blues" really penetrates, right down to your soul… a most-hip vibe that will have you playing the song over & over again!
Of the thirteen songs James offers up, it's the closer, "Blue Heartbreak", that is my choice for personal favorite – hands down!  Listeners who are lovers of blues that has that "jazz cool" will agree, I've no doubt.
I give Blind Lemon Pledge & his players a MOST HIGHLY RECOMMENDED rating, with an "EQ" (energy quotient) score of 4.97 for this one.  Get more information on the Blind Lemon Pledge website.           Rotcod Zzaj
#Beautiful #bluesy #late #night #swing #Blind #Lemon #Jazz