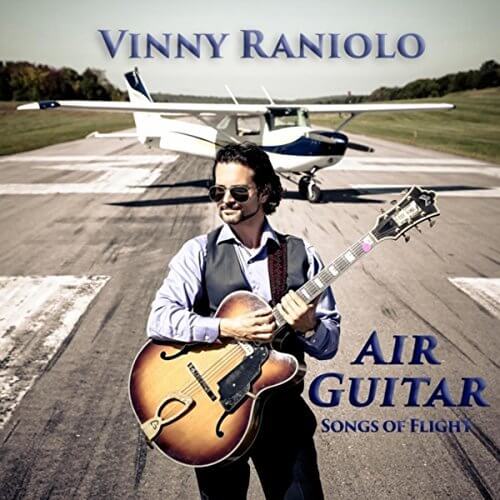 Vinny Raniolo tastefully played guitar jazz Vinny Raniolo – AIR GUITAR:  Vinny's guitar work is very pleasant, and tastefully played on all fifteen songs on this April, 2018 release… as you listen to "Flying Down to Rio", you'll find yourself in the mood – for FUN!
When you add in excellent bass guitar by Elias Bailey, as you'll hear on the duo's version of "Blue Skies", your ears will BE where they want to be… "away from it all"... ultimately cool jazz with tons of energy.
I didn't find any live videos of Vinny's latest album, but here's a very nice video interview with him that will let you hear & see his light touch on jazz guitar…
When you listen to Vinny & Elias on their performance of the classic "Fly Me to the Moon", you'll realize that you've got an album that will be at the top of your easy-listening playlists for years to come.
It was easy to pick my personal favorite of the fifteen songs… "East of the Sun (And West of the Moon)" is the longest piece on the album, clocking in at 4:27, and both players pull out all the stops, coaxing every note out of their instruments with high energy and talent through & through.
I give Vinny's album a HIGHLY RECOMMENDED, with an "EQ" (energy quotient) rating of 4.97.  Get more information on Vinny's website.         Rotcod Zzaj
#Vinny #Raniolo #tastefully #played #guitar #jazz