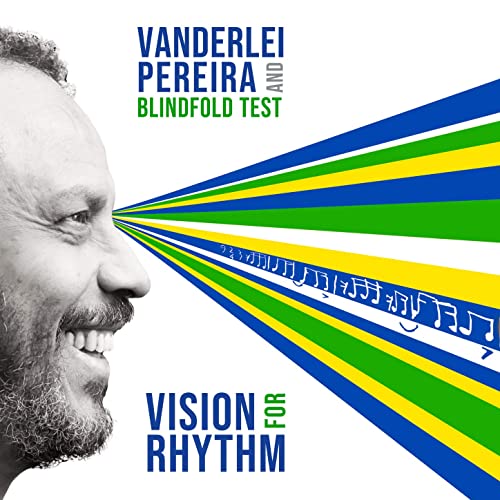 Masterful rhythmic jazz Vanderlei Pereira – VISION FOR RHYTHM:  This masterful rhythmic album features Jorge Continentino – tenor sax, flute, alto flute, piano; Susan Pereira – voice, percussion; Deanna Witkowski – piano; Paul Meyers – acoustic guitar; Gustavo Amarante – electric bass; Vanderlei Pereira – drums; Rodrigo Ursaia – tenor sax (tracks 6, 9,10) and Itaiguara Brandão – electric bass (tracks 6, 9,10)… one of the freshest releases I've listened to (yet) in 2020.  Though the video below of  is a bit older, it still shows the group's total skill and verve for life on a performance of ""De Volta à Festa"…
…be sure to SUBSCRIBE to Vanderlei's YouTube channel, where you can watch more videos… I did.
The official release isn't until May 22nd, 2020, so the sample links won't work until just prior to that; but, take my word for it, you're gonna' LOVE songs like "Mercado Modelo"… sexy little guitar intro segues very nicely into a vocal & flute performance that's hard to beat… you'll definitely be hearing jazz DJ's spinning this track constantly!
The splendid "Ponto de Partida", an original by Vanderlei, demonstrates Pereira's far-above-average drumming skills, and is supported in fine fashion by each of the other players… mighty mellow tuneage, to be sure.
I absolutely loved the flute on the 7:06 "Corrupião" (corruption), and the changes are fast-moving and full of life… if you dig music with a decidedly Latin flavor, you're going to be spinning this track over & over again!
It was another original by Vanderlei, "O Que Ficou" (What Remains), that got my vote for personal favorite of the eleven tunes offered up for your jazz journey… the recording is just flawless, and you'll find yourself coming back to this track frequently.
I give Vanderlei and his musical companions a MOST HIGHLY RECOMMENDED rating, with an "EQ" (energy quotient) score of 4.99 for this splendid release.  Get more information on the Vanderlei Pereira website.   This great album is on the Jazzheads label, JH1242.             Rotcod Zzaj
#Masterful #rhythmic #jazz #Vanderlei #Pereira