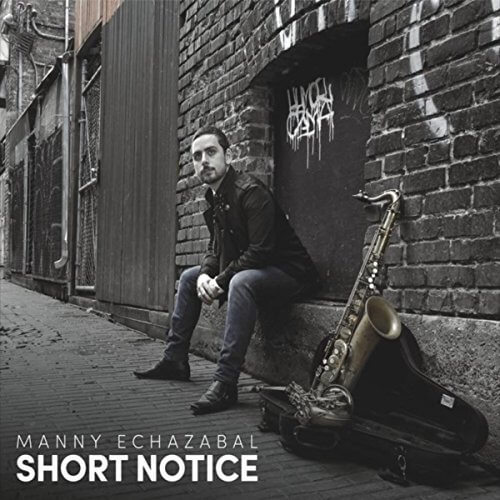 Manny Echazabal saxophone dynamic debut Manny Echazabal – SHORT NOTICE:  Obviously, this is my first listen to Manny's excellent tenor sax work, since it's a debut release (the CD doesn't officially release until 17 September, 2017; I'll come back and put in the sample links as soon as they're posted).  He pulled together some high-talent young players to achieve maximum impact… Tal Cohen on piano, Dion Kerr doing bass and David Chiverton on drums are all top-of-the-line pros, as you'll hear on the super-mellow closer, "Unknown Identity"… I would most strongly recommend that you listen to this album with headphones on, at least for your first sitting.

To get a real sense of just how dynamic their playing is together, please be sure to watch this fine clip of them performing the title track, "Short Notice", on YouTube:
…remember, that's only a clip… the full song clocks in at 6:26, and will blow you away… great solid jazz full of hope and high spirit!
Readers who check out my reviews frequently know that I'm a firm believer in "original is real", and all nine tunes on this 51-minute release were written by Manny, so that goes a long way towards my highly favorable impressions of the album… there's no question in my mind that you will love my personal favorite, the 5:08 "The Green Monk"… he says that he "wrote the tune to capture the bird's unpredictable moods" – in relation to his pet green monk parrot, of all things… a great tune that I spin often on my iPhone player!  I give Manny and his musical pals a MOST HIGHLY RECOMMENDED, with an "EQ" (energy quotient) rating of 4.98 for this fine freshman release.  Get more information about Manny at his website.     Rotcod Zzaj
#Manny #Echazabal #saxophone #dynamic #debut