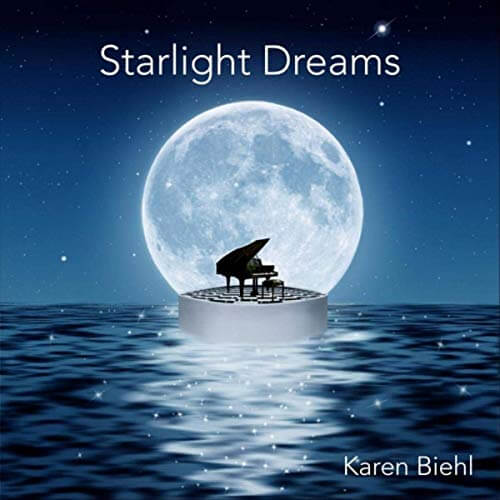 Magical meditative solo piano Karen Biehl – STARLIGHT DREAMS:  I am often amazed by the breadth and depth of solo piano talent in the world today, and Karen's marvelous keyboard puts her solidly at the top of that range, to be sure… I (most strongly) recommend that you watch her video of "Meditation on a Moonlit Lake" before I move on to the album review….
…full of absolute wonderment, with a view towards the stars she so adores; & since you're there already, be sure to SUBSCRIBE to her MaestraMusic YouTube channel, where you'll find many more intriguing works to enjoy.
The video work on "Autumn Amble" is totally enchanting and will hold you spellbound…
Karen's keyboard style is truly "alive" with connections to the universal forces at work behind the scenes (for all of us); I was especially impressed with her right-hand magic on tunes like the 3:32 opener, "Awakenings"… I've no doubt this piece will be getting major rotation on New Age channels 'round the globe!
You'll hear and feel the gentle fluttering of those higher beings that watch after us as you listen to the beautiful flow of "On Angel Wings"… overtones that are in heavenly realms abound on this composition.
A real sense of the wonderment of life well-lived will capture your heart on Karen's wonderful playing as you listen to "The Beginning"… it's only 2:20, so you'll find yourself using the "replay" button often for this piece!
I listened through the entire album twice before choosing my personal favorite of the thirteen sonic journeys Karen has offered up for your enlightenment and peaceful focus… "Raindrops" clocks in at 5:08, the longest piece on the album… her pacing is absolute perfection, and she makes you visualize the beauty of the rain.
I give Karen a MOST HIGHLY RECOMMENDED, with an "EQ" (energy quotient) rating of 4.98 for this excellent solo piano adventure.  Get more information at her Maestra Music website.            Rotcod Zzaj
#Magical #meditative #solo #piano #Karen #Biehl