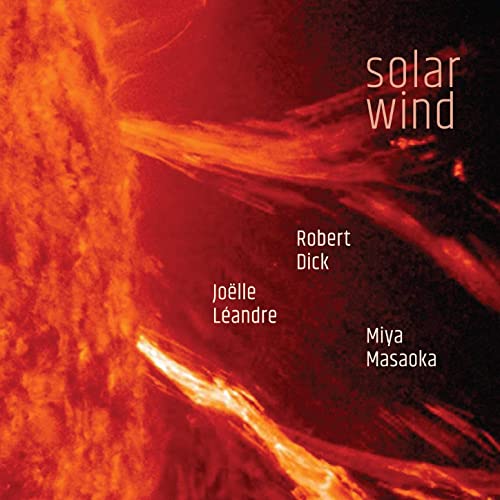 Imaginative sonic inventions Robert Dick Joelle Leandre Miya Masaoka – SOLAR WIND:  The (most) imaginative sonic inventions you will hear on this release are among the most creative pieces I've heard (yet) in 2020… true fans of creativity will experience thrills unlimited as they listen to Robert playing glissando flute, bass flute, contrabass flute, piccolo and voice, Joëlle Leandre on contrabass and voice and Miya Masaoka doing koto and percussion on tunes like the deep and dark "Chronotype"… decidedly different.
Though you won't find LIVE videos of this amazing trio, I still recommend that you SUBSCRIBE to the Joëlle Léandre Topic channel on YouTube, where you'll find many more interesting albums – I did.
The 3:03 "Blue Fugates" reminded me of some of the entertaining improvisations my friend Ernesto Diaz-Infante has done over the years… the short length will make this piece a favorite for jaded DJ's around the globe!
Be sure you have your headphones on as you listen to the title track, "Solar Wind"… the recording is flawless, and the players provide some of the most intricate sonic nuances you will ever hear… Miya's koto is just marvelous on this piece.
For my ears, it was (unquestionably) the closing track, "Adiabatic", that got my vote for personal favorite of the dozen creative gems offered up for this aural adventure… this is one of the most accessible improvised tunes I have ever listened to!
I give Robert, Joelle and Miya a MOST HIGHLY RECOMMENDED rating, with an "EQ" (energy quotient) score of 4.99 for this most memorable album.  Get more information on the Not Two label page for the release.           Rotcod Zzaj
#Imaginative #sonic #inventions #Robert #Dick #Joelle #Leandre #Miya #Masaoka