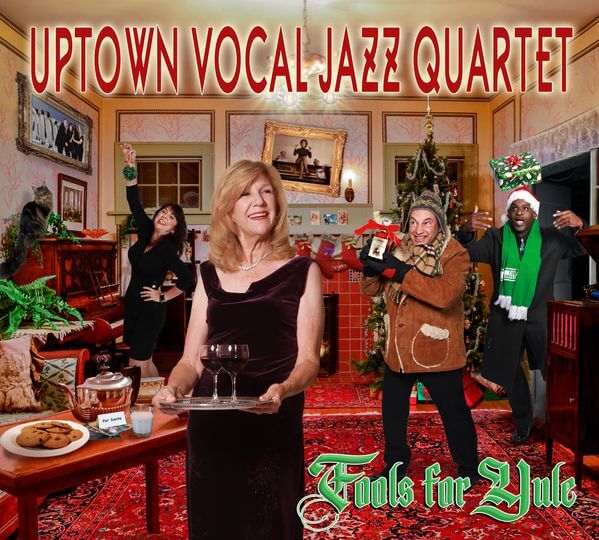 Delightfully different seasonal songs Uptown Vocal Jazz Quartet – FOOLS FOR YULE:  It's been a while since I reviewed UVJQ's "Vocal Madness", and they're back with delightfully different seasonal songs for you to enjoy… you'll want to watch their trailer for the album, to be sure…
For LOTS of other performances, be sure you SUBSCRIBE to their UPTOWNVJQ channel on YouTube.
The recording is flawless on traditional songs like the classic "Winter Wonderland"… the 3:30 length will make this perfect for DJ's to plugin to their playlists during the holiday season, too!
A really swingin' vibe will turn Christmas into the splendid season we all remember from years past on the title track, "Fool for Yule"… you'll be tappin' those toes and snappin' those fingers all day long to this delightful tune, I've no doubt.
The vocal blending on the closer, "Silent Night", is better than any performance I've heard of that wonderful tune… pure vocal beauty!
The piano intro on "Christmas Time is Here" absolutely "made" the song a HIT for me… it's my choice for personal favorite of the eleven exciting songs offered up.
I give Uptown Vocal Jazz Quartet a MOST HIGHLY RECOMMENDED rating, with an "EQ" score of 4.99 for this excellent seasonal album.  Get more information on the UVJQ website.                      Rotcod Zzaj      
#Delightfully #different #seasonal #songs