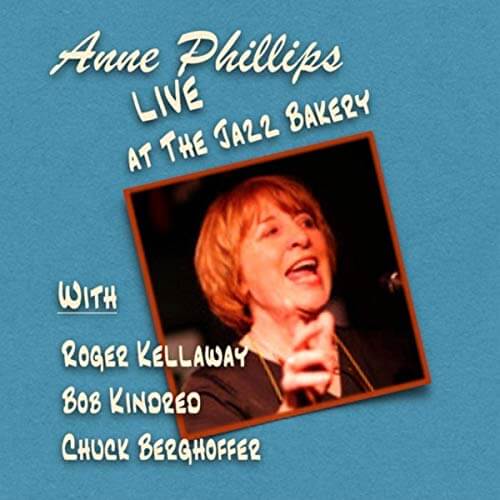 Captivating jazz vocals Anne Phillips – LIVE AT THE JAZZ BAKERY:  Anne's splendid and captivating jazz vocals are supported by some excellent players… Roger Kellaway · Bob Kindred & Chuck Berghoffer, and as you listen to their ultra-hip performance on "Born to Be Blue", you'll realize that this is some of the best vocal jazz you've listened to (yet) in 2019.
Though I didn't see any LIVE videos from the album, you'll still want to SUBSCRIBE to Anne's YouTube channel, where you'll find many of her full albums on display… I did.
It will feel like she & her musical friends are right there in your living room as she talks (very personally) to you on "Anne Talks to Audience Second Time (Live)"… well-recorded and vibrant with live energy!
The sax intro from her husband Bob on "Embraceable You" is absolutely lovely, and Anne (totally) makes this tune her "own" as she dialogues with the reeds… it's quite unique, and will capture your ears easily.
Of the sixteen songs offered up for your jazz listening adventure, it was easy to make my choice for personal favorite… "Another Day Without Him" will reach right down to your heart… Anne's voice is sultry and rich on this tune; it will definitely be getting LOTS of replay!
I give Anne and her excellent players a MOST HIGHLY RECOMMENDED rating, with an "EQ" (energy quotient) score of 4.98 for this highly entertaining jazz vocal set.  Learn more on Anne's website.            Rotcod Zzaj
#Captivating #jazz #vocals #Anne #Phillips