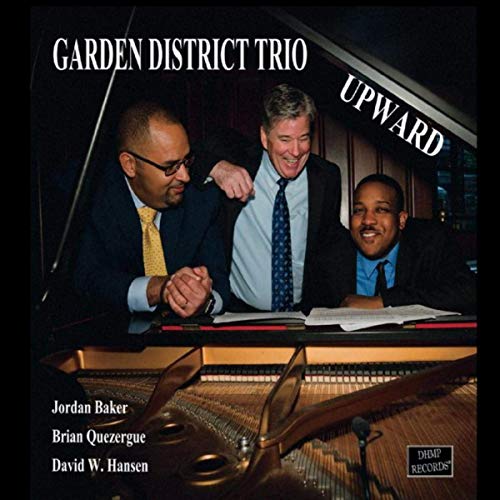 Breakthrough original jazz Garden District Trio – UPWARD:  I know you're going to find it hard to believe as you listen to this, but the originals penned by bandleader/drummer/percussionist David W. Hansen on this album were a breakthrough for him… just watch the band performing live in NOLA first…
…that's the high-energy opener on the album, titled "Jump", & it's an absolutely killer performance!  This grouping of the trio features David's drums, of course, and he's joined by Jordan baker on piano, Brian Quezergue doing bass… superb work!  In David's own words (from the promo sheet), "third time was lucky and then a few months later four more came along quite quickly with another written the day before going into the studio." – it's just SO NICE when it all comes together, and I'm telling you, folks, the trio NAILED IT on this extra-special album.
All the songs on the album show a very personal touch, with an infusion of LIVE and the LIVING that I (and my ears) find very appealing… I was especially impressed with "My Sons (Meus Filhos)", and have little doubt that you will be, too… the song is just the right length (3:10) for jazz DJ listings; I predict that you'll be hearing this one in jazz rotations across the country over the coming months!
Another thing that's cool about David's compositions is that they don't get "stuck" in any kind of ruts… while the high-energy approach I noted for "Jump" above is a totally cool style, you'll find that the mellow tones on "Love For You" bring you pleasant memories of someone you love… a wife, a mother or a girlfriend – it doesn't matter, David wrings the emotions out of this tune to create a song that is timeless.
My personal favorite of the eight great tunes offered up for your jazz adventure, though, is totally appropriate, since David hails from New Orleans… "Mardi Gras Day" closes the album – high-spirited & lively, this tune definitely reminds me of my own visits to the jazz joints in NOLA… LOVE this tune!
I give David and his bandmates a MOST HIGHLY RECOMMENDED, with an "EQ" (energy quotient) rating of 4.99.  Get more information on their playing schedule, their albums & all else on the GDB website.          Rotcod Zzaj
#Breakthrough #original #jazz #Garden #District #Trio