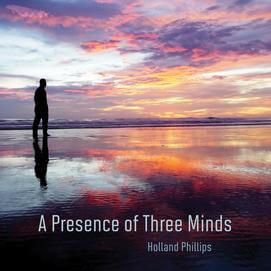 Uplifting piano acoustic and synthesizer beauty Holland Phillips – A PRESENCE OF THREE MINDS:  This is actually the first time Holland's uplifting piano, acoustic and synthesizer music has been reviewed here… my latest review of his stunning work was in issue # 158, where he got very good marks. You can get a close look at his piano style in the video for an earlier release…
…be sure to SUBSCRIBE to his YouTube channel, too, where you'll find many more beautiful creations… I did.
You won't find samples right now, as the album doesn't officially release until late August, 2019… I'll come back and add them as soon as I'm told they are available… in the meantime, trust my ears when they tell you that Holland's synth work on pieces like "Finding Pixies" are absolutely magical, and full of power… the 4:25 piece will entice your ears and draw you into his musical spell, I've no doubt!
The keyboard introduction to "Alone in the Crowd" will allow you to draw on memories of your own "alone time", and help you to revisit them with (both) sadness and joy… I can (easily) see this piece being nominated for an award (and WINNING).
Though the promo sheets describe the album as "New Age", Holland's high-talent skills take the music much farther than that… "Arendell Rising" is a great example of the diversity Holland plays with… I just LOVE the synth washes on this creation… the recording is pure perfection!
For sheer power and elegance, it was easy to choose the 4:53 opener, "From The Depths", as my personal favorite… this song will appeal to a broad spectrum of listeners, and (I predict) will receive a LOT of airplay on stations around the globe… the arrangements are delicate and light (ethereal), yet are full of the power of life and the living of it… a great piece of music.
I give Holland a MOST HIGHLY RECOMMENDED rating for this splendid musical adventure, with an "EQ" (energy quotient) score of 4.99.  Get more information on Holland's site.               Rotcod Zzaj
#Uplifting #piano #acoustic and #synthesizer #beauty #Holland #Phillips