The "swirl is gone" – but the "thrill sure ain't" – WICKED DETAILING: Yah, I know, that's a jaded play on B.B. King's great song, but it really fits, folks!  I couldn't have been more thrilled than when I got the call saying that John & Cat, of Wicked Detailing, had my 1966 Pontiac GTO spiffed out & shining… check it out below…

Wicked Detailing is right here in Lacey, too, folks… only a couple of avenues down the street from my house… I had called them up just after Christmas to get a feel for what they thought they could do to make my classic car look better… the main thing that John emphasized when we first spoke was that his well-honed skill set and dedication to doing things the right way could restore the finish of the paint job on my 1966 GTO to showroom standards… after a bit of discussion about pricing, we had a handshake deal on a price (& that's another thing I really liked about dealing with these folks – "old fashioned" all the way… & they not only delivered what they promised, but they did it with a sense of pride in workmanship that you rarely find these days).
In order for you to have a better sense of just what they accomplished (both outside & inside), here are a few "before" shots that John took…
Here's what those same general areas looked like "after" they completed their shimmering magic…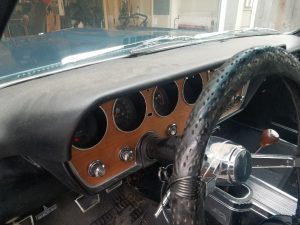 It's not often anymore that I find myself wanting to advocate for a business, because I've dealt with so many of them that either don't deliver what they promised, or just don't have the skill sets to back up their claims…
Wicked Detailing does all that and more… they even gave me some referrals for other services I'm going to be in need of (an upholsterer and a scratch repair place) soon… you can't ask for more than that… thoroughly skilled and happy to help… it made my day, & will make yours, too… but you'd better hurry up… John told me that they are in their "slow season" right now… as soon as the weather starts to break again, they'll be back to being booked ahead by three or four weeks – so get in touch NOW, by calling them at 360-485-6969, or visiting them at the Wicked Detailing website to make your appointment now!
There's NO doubt about it… Papa's gotta' brand-new GOAT, thanks to John & Cat at Wicked Detailing…