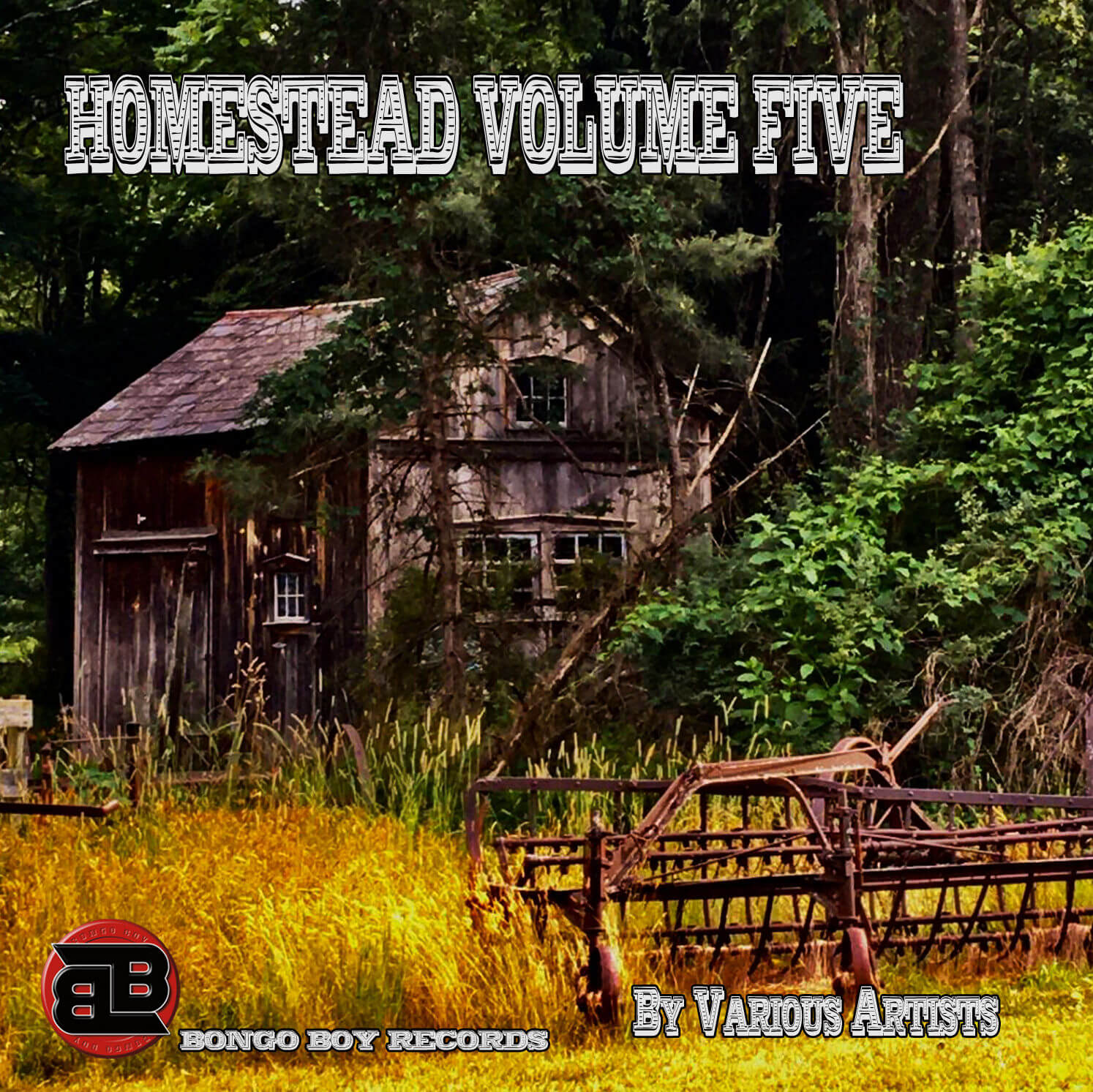 Powerful pretty Americana Bongo Boy Records – HOMESTEAD VOLUME FIVE:  Way back in the 1960's, my teacher (& farmer) Dave would tune the radio on our hog-hauler to tunes like this as we wove through the Kentucky mountains to the market, and proclaim to me "Son, them's some right powerful pretty Americana songs, & don't you ever forget 'em"… I learned an appreciation for the lyrical talents of so many artists on those late-night treks.
If you wanna' know how Norman Collins & The Tumblers feel after creepin' back an all-nite pub crawl, you'll find "What The Cat Dragged In" to be much to liking… a genuinely FUN song.
Our friends at Bongo Boy Records have put together a double CD album of Americana that will give comfort to future generations, for sure… songs like Clark Ford's "In Your Eyes" featuring Underground Treehouse and Michael Lusk tell listeners of the truth of unconditional love; an absolutely sweet song!
"Whiskey Joe's" from E.G. Holmes, featuring John Ruddle reminded me of a whole lot of bars I spent hours in over around Louisville, too… there's some sweet organ on this song that made me fall in love with it right away, too.  I was mightily impressed with Junior Burke's "Coming Home From Shiloh" civil-war tale, too.

Todd Barrow's "Point Of No Return" has a whole host of sweet guitars that dig down deep into your soul & bring the shine on out… I predict that this song will be getting a LOT of airplay!
"Carolina Kiss" from Blind Lemon Pledge is a stunning reminisce about a long-lost love that shows high talent and lots of promise for the future; Greg Guba hammers home a beautiful memory on "Just Life", and "Let Love Shine" features Joe Cerisano on Gar Francis's sweet soulful song.

Many of our readers aren't familiar with the magic of a well-played & plucked banjo, but after you listen to the comical tale they tell on "I am A Lion" from John Edwin & the Banjodasha Hillbillies, you'll be a fan for sure!
I haven't listened to a piece of Americana that "tells the tale" more beautifully than Frank Trousdell does on the 4:14 "Alanna The Harvest Queen"… more than one tear slid down my cheeks as the mem'ries came flooding in…
There's some magical organ music woven in & through Point Taken's high-energy "Yeah, That's Me" that made me fall in love with the song immediately… DJ's will be picking this one frequently!
Gentle guitar strains and high emotion pour out on "I Can't Imagine" from Pete James; one of the most well-crafted Americana songs I've heard (yet) in 2021.
Ray Materick weaves his words right on into your dreams with the closer on the second CD, "Through The Years"… Ray uses excellent guitar abilities and powerful prose to tell us all about his love for his lady!
It was the 4:38 "Harp & Plow" by Harp & Plow that (unquestionably) won my vote for personal favorite of the twenty tantalizing tales told on this memorable two-CD album… the guitar solos just ROCK IT.
I give Bongo Boy Records a MOST HIGHLY RECOMMENDED rating, with an "EQ" (energy quotient) score of 4.99 for this Americana gem.  Get more information on the Bongo Boy Records website for the album.                                  Rotcod Zzaj
#Powerful #pretty #Americana #Bongo #Boy #Records