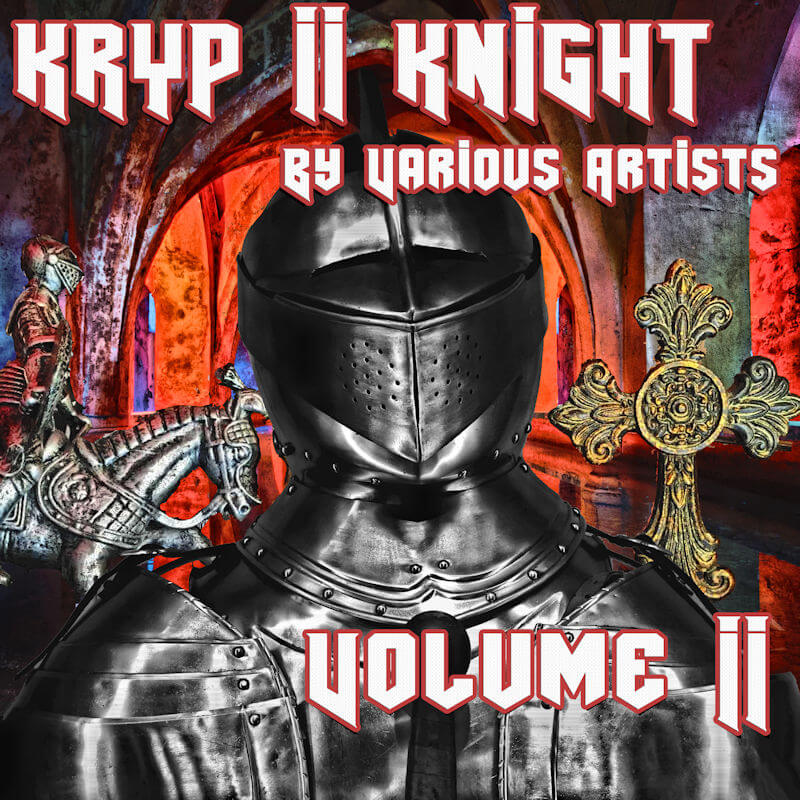 Penetrating powerful hard rock Bongo Boy Records – KRYP II KNIGHT, VOL II BY VARIOUS ARTISTS:  When the fever and the fury descend upon you, there's no question what you need… penetrating powerful hard rock… and our friends at Bongo Boy Records ALWAYS give that to you – in spades.
The opening salvo on this mega-powerful excursion is the Alan King Project, with "I'm Everywhere"… the vocals will blow you away, and there's a (true) sense of universal orchestras in, under and through the tune… SUPER power!
Gypsy Carns uses his powerful words to tell us a story we all know the answer to, but need to be reminded of, on the rockin' "Color of Skin"… the guitars on this song just SOAR.  He also plays his heart out on the beautiful "Save Us Lord".

A group I hadn't heard before, The Word66, rocks it out hard with "On The Way To The Promised Land", giving hope and encouragement to whole generations of those who love to hear the shred of high-energy guitars… this tune will be (I predict) getting some MASSIVE airplay!  It is, without question, my personal favorite of the thirteen powerful tunes offered up… Watch a clip, too…

Bringing fantasy-land to life on "The Eye", Obsidian Overlord… there's a real sense of "ethereal" on this piece that's very attractive… I also enjoyed their performance on "Forgotten Soul", especially the high flying guitar leads.
If you're looking for hard-charging rock & blues, you're going to fall in love (immediately) with "Long Road to Travel" from The L&M Project Band… I can HEAR the Harleys crankin'!
You won't believe the cooking, crashing drums on Jonah Whale's "Lets Get Loud"… you NEED to listen to this rock gem with your headphones ON, peepz… his "Zero To Love" is a winner, too, as well as "Aliens In Hollywood" (I thought they were ALL alien there, lol).
When inspiration is what you're craving, you'll always come back to "There's Reason" from the high-energy group skinsNbones… strong lyrics that (once again) merit your headphones on while you listen to it!
You'll get a most pleasant feeling of nostalgia as you listen to "Rain" from Gia Gallagher… great lyrics and solid guitars make this a rocker you'll remember – especially the lead lines on the guitar.
The closing track, "Anticipation", features excellent guitar from Harold "Grit" Vondenstein… music lovers who can't get enough high-talent guitar in their playlists will find this an instant hit!
There are no competitors when it comes to rock music… Bongo Boy Records, and their artists, are the stuff, people… I give this great rockin' album a MOST HIGHLY RECOMMENDED rating, with an "EQ" (energy quotient) score of 4.99.  Get more information on the Bongo Boy Records website for the album.                   Rotcod Zzaj
#Penetrating #powerful #hard #rock #Bongo #Boy #Records