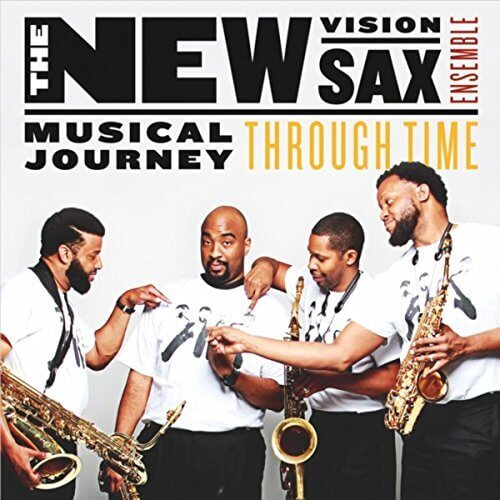 New Vision Sax Ensemble sax jazz The New Vision Sax Ensemble – MUSICAL JOURNEY THROUGH TIME: This is an album that will "grow" on your ears… the first listen may not result in immediate attraction, but by the time you've listened through the album a couple of times, you will be hearing their all-sax renditions of tunes like "A Night in Tunisia" in your head no matter where you may be.  I didn't realize until I read the promo sheets that the group has been on the scene since 1999, entertaining audiences often.

What's most clear, and what salvages the album from the "non-review" stack, is that these young fellows (Diron Holloway on alto sax/clarinet; James Lockhart doing alto sax; Jason Hainsworth on tenor sax and Melton Mustafa on baritone sax) definitely LOVE having fun with their music… as I listen to "I Feel Pretty", I find that their pacing & their joy of playing together is more and more attractive… it's a performance of this classic like no other you've heard before – unique, to be sure!
They also have strong talent when it comes to letting their "soul" shine through, as you'll realize when you listen to their rendition of the closing tune "Amazing Grace"… if you haven't been to church lately, I've no doubt you'll be headed in that direction after you hear their performance.
No difficulty (at all) in picking my personal favorite of the nine tunes they offered up for your jazz enjoyment – "Round Midnight" shows their real skills, and (again) is a song you will queue up often on your player.  I give the group a HIGHLY RECOMMENDED, with an "EQ" (energy quotient) rating of 4.98 for this fun listen through jazz history.  Get more information at the New Vision Sax website.      Rotcod Zzaj
#New #Vision #Sax #Ensemble #sax #jazz