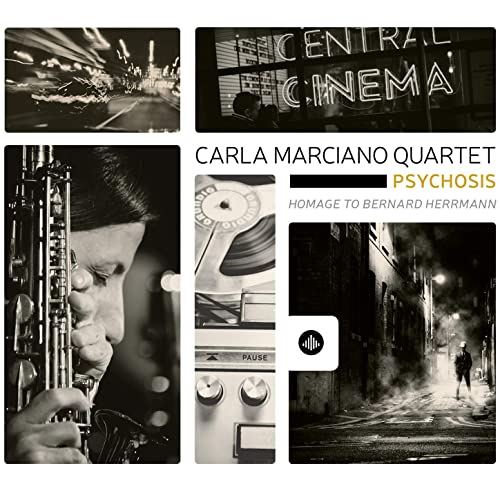 Marvelous mysterious saxophone jazz Carla Marciano Quartet – PSYCHOSIS:  Carla's alto and soprano saxophone jazz work is just exactly what I said in the introduction… marvelous and mysterious, without doubt… she's joined by master players Alessandro La Corte – piano and keyboards, Aldo Vigorito – double bass and Gaetano Fasano – drums, and as you'll observe in the intriguing video they made for the opening salvo, "Theme from "Taxi Driver" (Betsy's Theme) [Arr. by Carla Marciano]", they KNOW their jazz intimately…
The tones Carla graces your ears with from her reeds are absolutely exquisite… I have no doubt that this tune will be on jazz DJ playlists around the globe in constant rotation!
If you're a legitimate lover of jazz that reaches down deep into the psyche and stirs your soul in many directions (all at once), you'll find Carla's arrangement of ""Theme from "Vertigo" (Scene d'amour)" totally captivating… the recording is flawless, and the group's pacing on the tune is pure perfection.
There are only eight tunes on the album, yet it still clocks in at over an hour… my selection for personal favorite is the closer, "Theme from "Harry Potter" (Hedwig's Theme) [Arr. by Alessandro La Corte]"… the energy and dynamic movement is magnificent (think of Carla as a kind of Sonny Sharrock on sax)… this is one of the strongest jazz performances I've heard (yet) in 2020!
I give Carla and her players a MOST HIGHLY RECOMMENDED rating, with an "EQ" (energy quotient) score of 4.99 for this beautiful (and somewhat overwhelming) jazz journey.  Get more information on Carla's page for the album.                      Rotcod Zzaj
#Marvelous #mysterious #saxophone #jazz #Carla #Marciano #Quartet