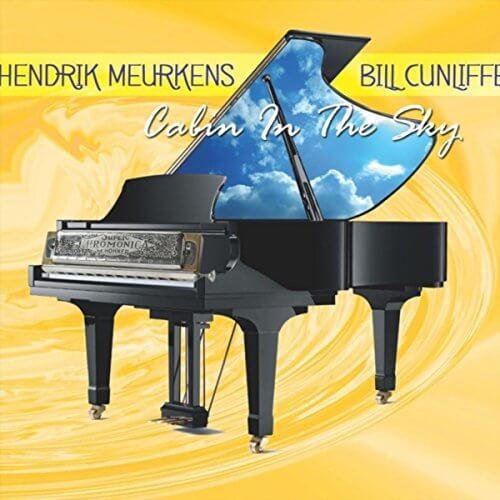 Highly entertaining jazz duo Hendrik Meurkens Bill Cunliffe – CABIN IN THE SKY:  If you've never heard mellow jazz harmonica with highly entertaining piano before, your ears are in for a real treat on this June 1st, 2018 release… Hendrik has chops on his harp that meld just perfectly with Bill's excellent piano, and they've incorporated strings that bring the production to the top shelf… if you're not sure you trust me to be the judge of that, just listen to their wonderful interpretation of Wayne Shorter's "Miyako", where they soar like birds together… ain't that sweet?
Bill belts out some very bluesy keyboard licks on "Ode To Billy Joe", and when Hendrik chimes in with the harp, you'll think you're right there on the bridge with them… truly one of the best performances I've (ever) heard of this classic tune.
Hendrik's original composition, "Prague In March", draws out emotions I'd thought long gone… both beautiful and melancholy at the same time… I loved this piece, & will be listening to it over & over again.
It was their ultra-hip playing on Joe Zawinul's "Young And Fine" that won my pick for personal favorite of the eleven tunes they offer up for your aural pleasure, though… truly some of the best duo jazz I've heard (yet) in 2018.  I give Hendrik and Bill a MOST HIGHLY RECOMMENDED, with an "EQ" (energy quotient) rating of 4.98 for this fine release.  Learn more on Hendrik's web page for the album.       Rotcod Zzaj
#Highly #entertaining #jazz #duo #Hendrik #Meurkens #Bill #Cunliffe