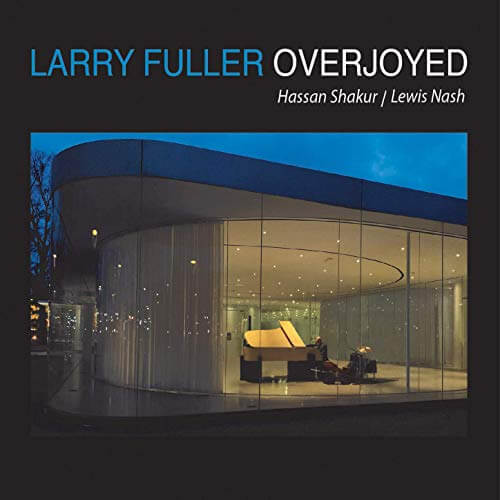 Exuberantly executed jazz piano Larry Fuller – OVERJOYED:  It's been a bit since I reviewed Larry's excellent jazz piano in issue # 154, and his new release is even more exuberantly executed.  Larry's piano is joined by bassist Hassan Shakur and drummer Lewis Nash, and they SMOKE it on tunes like the down & funky "Lined With A Groove", by Ray Brown… you can catch these (& more) by SUBSCRIBING to Larry's YouTube channel, too.
I also found the boogie-oriented "The Mooch" much to my liking (especially since boogie riffs were what I first learned when I was playing live)… it's only 3:21, so you'll be hitting replay often… jazz DJ's everywhere will love this one… perfect for airing!
The trio's rendition on the 4:37 closer, "Got My Mojo Workin'" is definitely different than you've ever heard, and I've no doubt you'll find it just as spellbinding as I did… they ROCK, folks.
A quote from Larry in the liner notes that describes his goals in his own words… "To uplift people with the joyous spirit of the music"… he most assuredly achieves that goal on tunes like my personal favorite of the dozen offered up for your jazz joy… Larry's keyboard lead the trio's rendition of Oscar Peterson's "Bossa Beguine" jubilantly… Larry & his bandmates will have you up & dancin' 'round the room all NIGHT long!
I give Larry & his players a MOST HIGHLY RECOMMENDED rating, with an "EQ" (energy quotient) score of 4.99 for this splendid release.  Get more information about the album on Larry's page for it.          Rotcod Zzaj
#Exuberantly #executed #jazz #piano #Larry #Fuller