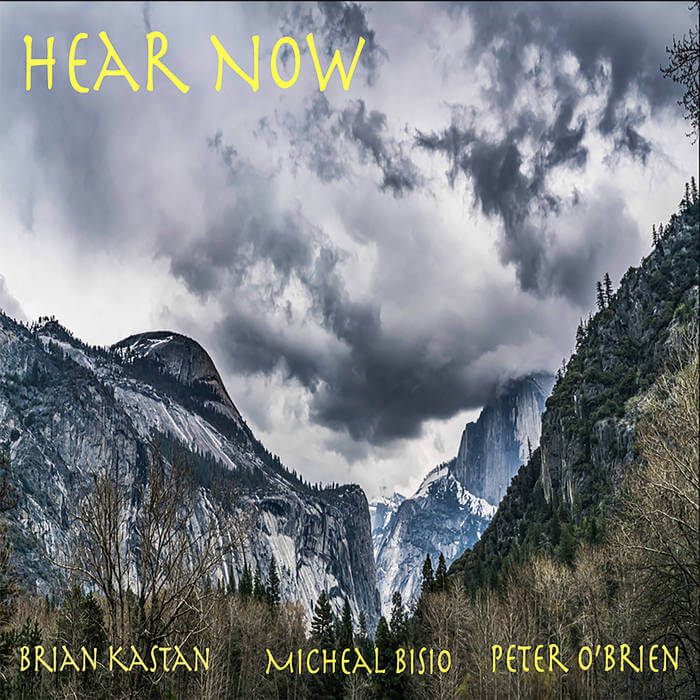 Excitingly evocative improvisations Brian Kastan, Micheal Bisio, Peter O'Brien – HEAR NOW:  I've been eager to get this album ever since my multi-instrumentalist friend Brian told me it was going to happen…Michael's masterful bass work is joined by drums from Peter as Brian plays acoustic guitar… you can actually witness their performance up-close and personally when you watch the video shot at Brian's Continuum Fine Art & Photography studio, too…

The dictionary definition for "evocative" says "bringing strong images, memories or feelings to mind", and when you SUBSCRIBE to Brian's YouTube channel, you'll find many other performances that do just that for you… I encourage you to do so right away; especially if improvised music is one of your enduring passions.
The title track, "Hear Now", opens with Michael's mellow bass leading into the 6:50 gem with all the high-energy and high-performance excellence I remember from watching him live many times when he was here on the Left Coast… of the five (extra long) enchanting performances they created, I think this is the one that jazz DJ's everywhere will be plugging into their shows religiously!
One of the things I totally love about the music Brian puts together for these albums (especially the one that focus on improvised music) is that they are just "crammed" with pacing that leads the listener to form one conclusion as the songs open up, but then morphs into something totally different than expected… a prime example of that is the 22:47 "M.B.'s Groove"… the players are seamless and totally "in-tune" with each other's intentions throughout the tune, but at about the 3:45 mark, the shades change, and move you in different directions than ever anticipated; it's really as if each player was reading the mind of the other two in the trio… an amazing experience that you simply MUST use your headphones for.
Many times, improvised music seems to be nothing but "wild winging" that is enjoyable, but has no real and lasting impact… I can promise you that if you listen to this double-album extravaganza closely (again, with your headphones on), you will find it to be a very rewarding and long-lasting experience… that's especially true for my favorite sonic gem on the album, the 27:25 "A Lot Of Things"… you've never heard acoustic guitar mesh so amazingly with bass and drums, folks!
I give this trio of genius-level improvisors a MOST HIGHLY RECOMMENDED rating, with a (perfect) "EQ" (energy quotient) score of 5.00 – which means they get a "PICK" from me for "most satisfying improvised music album".  Get more information on Brian's BandCamp page for the release.                      Rotcod Zzaj
#Excitingly #evocative #improvisations