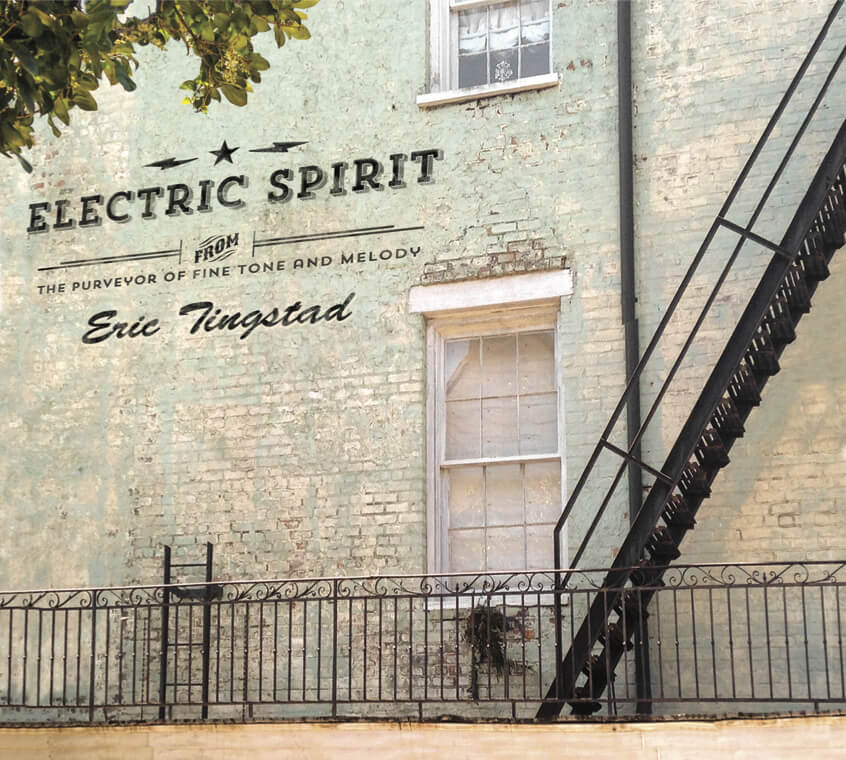 Fine Americana roots tones and melodies Eric Tingstad – ELECTRIC SPIRIT:  When I first reviewed Eric's superb guitar work in issue # 158, he got very high marks from me, and I'm even more impressed with his latest creative release… it just went to market today (2018/04/30), so the samples are now available. 
I showed him a picture of my GTO, & told him I needed to listen to this new one in there for a few miles… his comment back was "this is serious GTO tunes" – & Dixie ain't what he was whistlin' when he said that… as I listened to Eric's splendid guitars on the opener, "Electric City", it took me way back to my first goat, cruisin' down th' back trails around Tennessee & Alabama… his players are excellent, too… James Clark on bass, Ben Smith doing drums, Brooke Lizotte on organ & "whirly", Eric Robert on organ, Chris Leighton on percussion, Chloe Dolandis with vocals on "There's More" and Cindy Walker/Marie Lewy doing background vocals.  High-talent & professional all the way through, folks, I'll tell you!
"There s More" may well bring a tear to your eye… Chloe's vocal will pull mem'ries out of your heart that you thought were long-gone… perfect road music that tells the story… I just loved the organ on this one, too (makes sense, I guess, since keyboards were my instrument)!
If you've ever cruised along the banks of the Mississippi, you're gonna' find "Big River" much to your liking… Eric & the band really evoke that whole slip/slidin' feeling on this slinky little tune… great Americana that you'll be hitting the replay button for often!
You're going to fall in love with Eric's great guitar style when you hear "The Train of Thought"… tight lines, and excellent recording quality make it a tune I believe will be recommended for awards (& WIN, too)…
There's an almost "show" feel to my personal favorite of the dozen creations offered up for your listening pleasure… "Bessie" integrates each of the instruments tastefully and is just the kind of tune that will have yer' boots itchin' to get out on the floor.
I give Eric & his players a MOST HIGHLY RECOMMENDED, with an "EQ" (energy quotient) rating of 4.99 for this superb slice of Americana roots music.  Get more information on Eric's website as it becomes available.          Rotcod Zzaj
#Fine #Americana #roots #tones #and #melodies #Eric #Tingstad