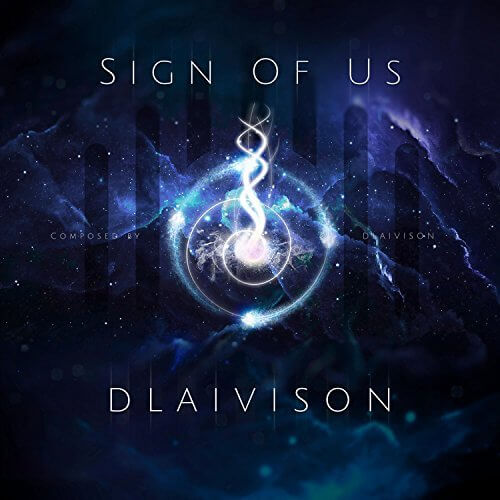 Dlaivison exciting new universal music Dlaivison – THE SIGN OF US:  A bit of "backstory" first… when I receive a new album for review, it immediately goes to my "review hard drive"… I listen to the first and last songs, just to ensure that nothing was flawed, add it to my QUEUE page, then don't listen to it again until I sit down to write the review… that's because when I was performing as a keyboard improvisor (many years ago), then started writing reviews, I felt it was best to do a "first impression" type of review… a FEW albums strike my ears so strongly that I can't help but listen through the entire album, port it to my iPhone and listen to it three or four times before writing my review… Dlaivison's wonderful and inspiring album was one of those few… it was the 8:12 closing song, "The Journey", that convinced me that his work required several listens before laying down my words… marvelous orchestral sections that immediately catch your ear with the power they convey!
SO – that's enough of that… on to the review… Dlaivison says that "Heroes" is "dedicated to those who inspire us to be a better person"… his high-energy composing and dedication to work that is nothing short of fantastic does exactly that, so now this player is definitely a hero to my ears (& mind & soul)… by the end of this 6:49 opus, you will feel like you are riding at the edges of the known universe, ready to move through the wormhole into the next dimension of life and times.
I also loved the exciting sounds he created on "The Wind's valse", which reaches down deep into your spirit and helps you to experience what the breathing of life is really intended to be for every being in the galaxy… though it's a much shorter piece (2:56), it will stay in your mind for days/months to come.
The most powerful song for this listener, clocking in at 6:31, is "Amazon", which weaves nature in with electronic sounds, bears repeated listens, and is my personal favorite of the ten offered up for your enlightenment and enjoyment… very accessible and very beautiful… I just LOVED this song.  I give Dlaivison a MOST HIGHLY RECOMMENDED, with an "EQ" (energy quotient) rating of a (perfect) 5.00… which means, of course, that it also gets my "PICK" for "best electronic exploratory album"… keep your ears on this player, people… he's BOUND to win some serious awards for this "album of the decade".  Get more information at the Sign Of Us website.          Rotcod Zzaj
#Dlaivison #exciting #new #universal #music