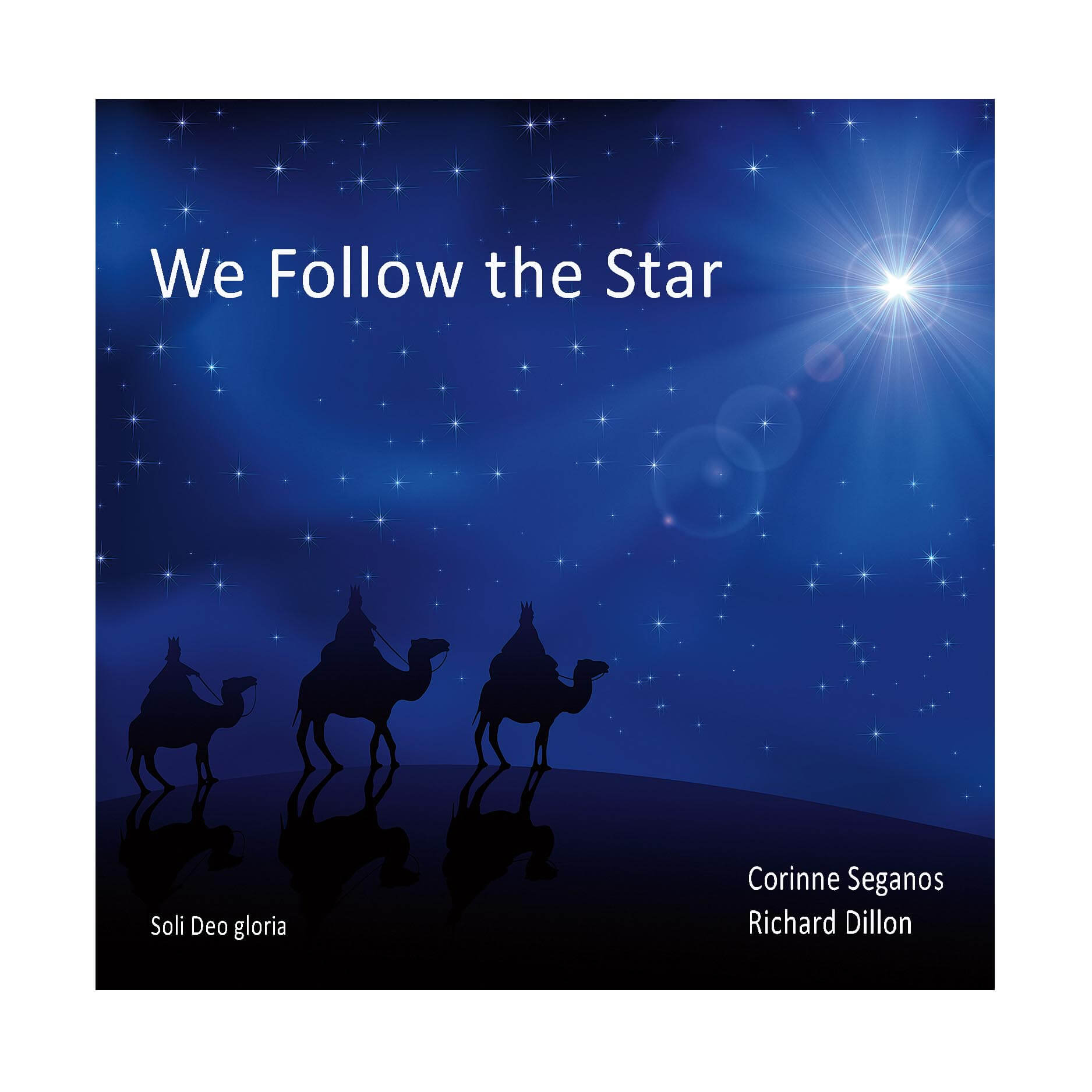 Delightfully diverse seasonal wonderment Richard Dillon & Corinne Seganos – WE FOLLOW THE STAR:  I have reviewed MANY of pianist/creator Richard's splendid sonic adventures, most recently his "Terra Incognito/The Space Between"… I can honestly say that after listening through the delightfully diverse seasonal wonderment on his newest release – this is the BEST you've ever heard from Richard!  Though I didn't see any LIVE recordings from this latest album, you can view & enjoy MANY of his albums by SUBSCRIBING to his YouTube topic channel… I did.
What truly sets this apart from "all the other" seasonal albums is the diversity (and high talent) of the artists involved… Richard plays keyboards and synths and is joined by Corinne Seganos doing vocals; alto flute by Sherry Finzer; lute from Yair Avidor; percussion by Epaminondas Trimis and Richard Dillon; drums from Edoardo Tancredi; violin by Stephanie Nagler and fretless bass from Steve Kim… each and every note is a treasure, particularly on songs like the wonderful "I Saw Three Ships"… the joy they convey with this tune will have you listening to it over and OVER again!

The gentle strings and soaring overtones on the title track, "We Follow the Star", bring the spirit of the holiday season right into your living room… sakes alive, folks, this is FULL-BLOWN orchestral work… I just love this piece.
The opening track, "Wexford Carol", uses sweeping tones as an introduction to some of the sweetest vocal work you've ever listened to from Corinne… folks who enjoy the more traditional songs of the season will fall in love with this piece right away!
Of the nine delightful songs offered up for your enjoyment, I found "What Child Is This?" was my absolute favorite… with the sweeping panoramas of the instruments to help you, it's easy to see yourself under the stars of that glorious night so many ages ago… a beautiful performance indeed.
I give Richard and his friends a MOST HIGHLY RECOMMENDED rating, with an "EQ" (energy quotient) score of 4.99 for this splendid seasonal sonic adventure.  Get more information, and purchase the CD direct from Richard's CD's page.        Rotcod Zzaj
#Delightfully #diverse #seasonal #wonderment #Richard #Dillon #Corinne #Segano