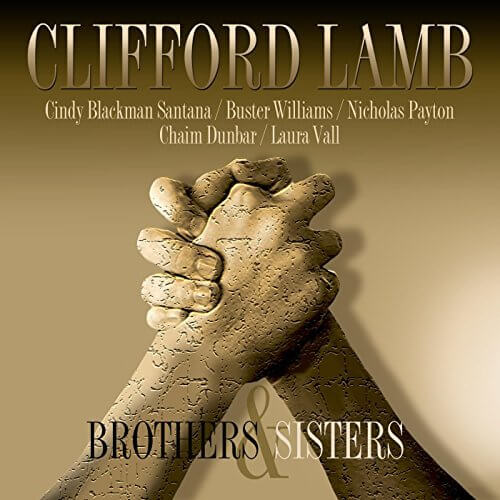 cliffordlamb unique jazz piano Clifford Lamb – BROTHERS AND SISTERS: I've reviewed a lot of Clifford's superb jazz releases before, all the way back to 2010 (issue # 101)… what's been evident in every one of the albums is that his piano creations are NOT "like the others"… they are totally unique and pulsating with life of their own.  A really great way to observe just how closely knit Clifford and his players are in creating jazz that is vital and different is to read/watch my video critique for "The Bridges Sessions".
Clifford's high-energy piano on his new release is complimented by Cindy Blackman Santana on drums, cymbals & percussion and bass from Buster Williams, who were also on the previous albums; this time, though, the high-talent trio is joined by vocalist Laura Vall and poet Chaim Dunbar, as well as hornman and keyboardist Nicholas Payton.  You'll be amazed by Payton's stellar horn work on the opener, "Hold The Line"… even though it only clocks in at 3:55, it is fully packed and robust – one of the strongest piano-led jazz pieces I've heard (yet) in 2017, in fact.

Another tune that is especially striking in displaying Clifford's special piano approach is his rendition of Marvin Gaye's "What's Going On"… Buster's bass and Cindy's superb drums keep the tune just as soulful as Marvin's original, and Clifford's chord arrangement makes the song swing to the 'nth degree – but I'll guarantee you – it's different than what your ears will be expecting – in a most glorious fashion that I've no doubt Marvin would approve of wholeheartedly!

The recording of the album is a refreshing change from most jazz artists & albums on the market today… the pieces are all recorded direct to two-track, meaning that every note must be exactly where it was supposed to be… no room for error, & therefore, no costly tweaks are required – and more importantly, "what they play is what you get".  The song that made me most appreciate Clifford's unique approach to that process is the marvelous title track "Brothers And Sisters"… you'll hear Laura's haunting vocal intro and Cindy's expert cymbal work right at the front of the piece & then Chaim's great spoken-word work… Clifford indicated that this piece also "reflects the urgency he feels about what's going on in the world".  This is a song that strives to bridge the gaps by emphasizing the importance of the people… and accomplishes it's goal brilliantly… a song well worthy of an award!
A most impressive addition to Clifford's series of albums that are fresh and vibrant – and important!  I give Clifford and his players a MOST HIGHLY RECOMMENDED, with an "EQ" (energy quotient) rating of a (perfect) 5.00 – meaning that it also gets my "PICK" for "most soulful jazz album".  Get more information at Clifford's web page for the release. 
#cliffordlamb #unique #jazz #piano