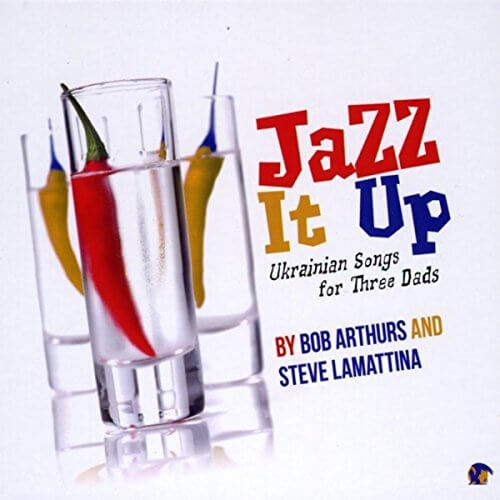 Bob Arthurs and Steve Lamattina Ukranian folk jazz Bob Arthurs and Steve Lamattina – JAZZ IT UP:  What an absolutely cool jazz album… Steve's masterful guitar work is thoroughly complimented by Bob's excellent trumpet/flugelhorn and vocal dexterity… just listen to songs like "Marigolds, that my Mother Planted" to get an idea of how well they perform together.
Truth be told, this is the first time I've heard Ukranian folk music in jazz mode, and I can tell you that it's a most pleasurable experience, whether you're a novice or seasoned listener… you're going to love Bob's vocal on "Moon In The Sky" just as much as I did… though I don't know the words being spoken, it's easy to hear the emotion oozing forth… laid-back & superb pacing from the players make the tune a clear winner!
For their next outing, I'd definitely recommend a LIVE video of a couple of the songs… they do have a channel that you can SUBSCRIBE to, of course… there's no question that a live vid of tunes like "My Dear Mother" would be perfect for iPhone viewing.
My personal favorite of the eleven songs offered up is the closer, "Blues for Ukraine"… again, they've got the pacing down solid, and you can bet I'll be listening to this great song over & over again.  I give this fine duo a MOST HIGHLY RECOMMENDED, with an "EQ" (energy quotient) rating of 4.97 for this most enjoyable album.  Get more information at Bob's website.         Rotcod Zzaj
#Bob #Arthurs #and #Steve #Lamattina #Ukranian #folk #jazz