Amazingly ethereal keyboard/flute improvisations Giorgia Santoro and Pat Battstone – DREAM NOTES:  Readers who have been with us for a while will know that I believe keyboardist Pat Battstone is already a "legendary" explorer… I've reviewed nearly every one of his albums in recent years, and am constantly surprised by his creations… this amazingly ethereal keyboard/flute improvisation set features flutist Giorgia (she also plays bansuri, xiao, piccolo, voice, mouth harp, and effects) with Pat on keyboards… the album is made even more unique because the music is based on a series of paintings by visual artist Daniela Chionna… Pat and Daniela found common ground through her "Immersion" series, and collaborated to bring Daniela's paintings to life through music.  Here's a video they show prior to their performances…

…there are also several other enchanting videos, so SUBSCRIBE to Dr. Benway's YouTube channel while you're there, too.
Check out the photos that were taken of the creators together…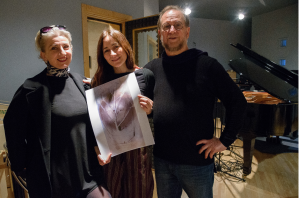 I found the 6:46 "The Flowers of Benten" to be one of the most intriguing pieces I've listened to (yet) in 2019… Pat's keyboard intros the tune, then Giorgia melds her beautiful flute in right around the :53 second mark… what really makes this collaboration stand out so brightly is that you can actually "see" the flowers they are sonically celebrating in your mind's eye.  I just LOVE this song, and you will too!

The use of stringboard on the 3:19 "The Mist of Morning Waters", combined with the intrusive and kind of "choppy" flute passages, gives up images of coastal fogs running rampant towards your being – perhaps after a night of too much good wine, eh?  The playing is wonderfully fluid, and full of life!
I can tell you from my own amateur excursions on improvised keyboards that there are just certain "moments" when the players are "in the zone"… nothing is written down, it's pure and unadulterated improvisation… the "conversational duet" style that Giorgia and Pat bring to life is far and above the average; in fact, I'll go as far as saying that their work together is totally spontaneous; every note is in the zone, and spirits both bright and dark are exposed for you to see… nowhere is that more evident than on my personal favorite of the eleven improvisational masterpieces offered up, "Attraverso i Rami" (Through The Branches, according to the translator)… Giorgia's flute leads you into the dream forest, with Pat's keyboard joining at the 1:21 mark to give you glimpses of the beauty on your journey through fleeting darkness and waking light… if any piece of improvised music merits an award, it is THIS one!
I give this marvelous creative duo a MOST HIGHLY RECOMMENDED rating, with an "EQ" (energy quotient) score of 4.99.  Get more information on Pat's web page for the album.            Rotcod Zzaj
#Amazingly #ethereal #keyboard/flute #improvisations #Giorgia #Santoro #Pat #Battstone